Millions say "Tamam" (Enough) to Turkey's Erdoğan
After Turkish President Erdoğan said "If the nation says "tamam" ("enough") we will go", millions of tweets were posted with the word "tamam", which received great attention from global media.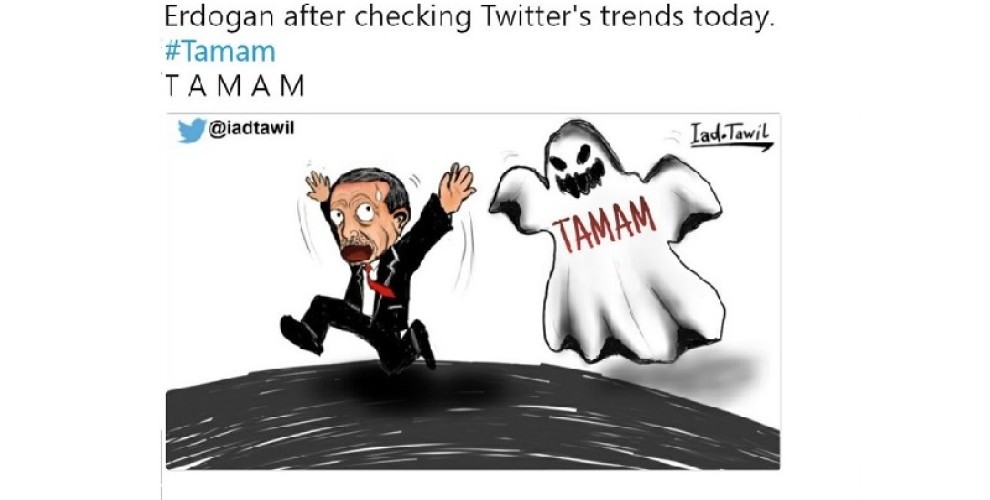 In a speech yesterday, Turkish President Recep Tayyip Erdoğan said, "If one day our nation says tamam (enough), only then will we step aside," and posts with the word "tamam" started popping up on Twitter.

There were over 1.8 million posts that included the word "tamam", while different versions/spellings of the word were also popular. The hashtag "devam" ("continue") started by pro-Erdoğan groups immediately after lagged behind at 300.000 posts.

GREAT INTEREST FROM GLOBAL MEDIA
This spontaneous reaction that developed on social media after Erdoğan's near-prophetic words garnered great interest from global media.
The Guardian wrote: "Rivals respond to president's offer to stand aside if country says 'enough' in June election." The article stated that half a million people yesterday afternoon alone shared the hashtag "tamam".

EUROPE1: TURKISH INTERNET USERS SAY "ENOUGH" TO ERDOĞAN
The French Europe1 radio said, "Turkish internet users say 'enough' to Erdoğan" and that Erdoğan's comments set the stage for these posts.

LIBERATION SHARED A CARICATURE
Liberation newspaper ran the same headline and shared a caricature by Iad Tawil that depicts a ghost with the word "tamam" on it chasing Erdoğan.
The New York Times (NYT) article said after Erdoğan's comments large groups of people shared the hashtag, including opposition candidates. The article also stated that the June 24 elections are very important as changes to the system will be implemented afterwards.

The multilingual Euronews network ran the story with the title, "I'll step aside when Turkey says 'enough', says Erdogan. Twitter responds" and said Erdoğan's supporters started the hashtag "devam" ("continue") as a response.

DW: "TWITTER WARS"
German media also stressed that the posts started immediately after Erdoğan's comments. Deutsche Welle radio pointed out the twitter war between anti- and pro-Erdoğan groups.

Austria's Der Standard newspaper ran an article that used the "TAMAM İnşallah" ("ENOUGH God willing" as a spot title.

The Times of Israel ran the title, "Turkish internet users say 'Enough' to Erdoğan".