May 1 martyrs commemorated in Istanbul
Democratic mass organizations commemorated those who were murdered on May 1, 1977 in Istanbul.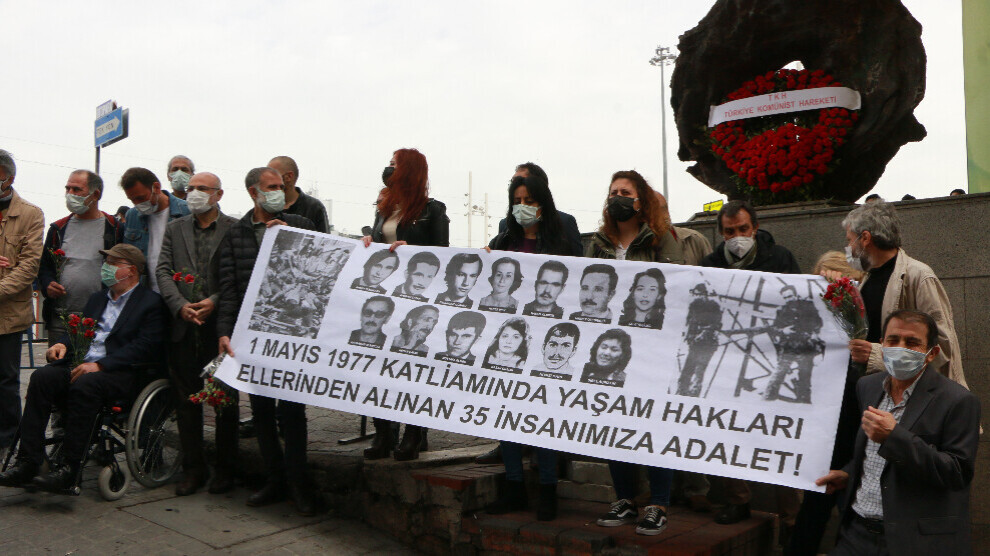 The Peoples' Democratic Party (HDP), 78'ers Initiative, Democratic Alevi Association (DAD), Socialist Refoundation Party (SYKP) and Green Left Party attended an event to commemorate those who lost their lives on May 1 in 1977 dubbed "Bloody May Day" at the Taksim Square of Istanbul.
İsmail Ağan from the 78'ers Initiative read out a joint statement.
Reminding of the AKP government's promise to establish a "Justice Commission" to investigate the massacres of 1 May 1977, 1978 Maraş and 1980 Çorum before the 2010 constitutional referendum, Ağan said that the perpetrators of these massacres have yet to be exposed by the government. "It was soon understood that the government was doing politics to influence the results of the constitutional referendum. It is unfair to make the suffering of peoples a matter of political agenda."
Remarking that Taksim Square is a public space, Ağan continued, "There are such areas in every country. Public spaces of modern times are such squares. The modern man is the man who objects. The sovereign powers and those who commit crimes against the peoples do not want to listen to the objections of the people and they prohibit the public spheres. They want to end the publicity of the Taksim Square."
Speaking after, HDP MP Musa Piroğlu stated that the epidemic was used as a pretext to ban the May 1 event.
"We have learned during the whole epidemic period that misery and ban exist only for the workers. The Square Taksim is the May 1 Square. May Day is the holiday of the working class. It is the day of the struggle of the working class," he said.
The commemoration event ended with laying carnations on the Kazancı Yokusu where the massacre took place.