Mass memorial for HPG guerrilla Siyar Gabar in Germany
A memorial was held for Siyar Gabar, who was martyred in the Turkish airstrike on July 9, 2018, in Hamburg, Germany.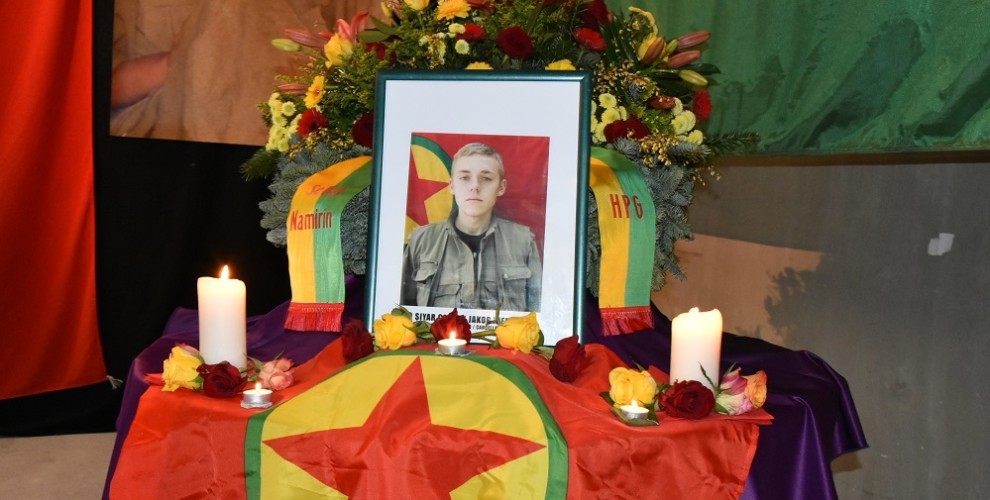 A memorial was held in Hamburg, Germany for HPG guerrilla Siyar Gabar (Jacob Reimer) who was martyred on July 9, 2018 in the Turkish airstrike against the Medya Defense Zones.
The march led by Tevgera Ciwanen Azad started from Hamburg Altona.
Martin Dolzer gave a speech after the march started with a minute's silence and said Jacob Reimer went to the Kurdistan mountains because he found true freedom there. 
Dolzer said a revolution of humanity is being built in Rojava with the Kurdish freedom struggle and added: "This revolution is an inspiration for revolutionaries throughout the world. The German state needs to revoke the PKK ban."
The crowd started marching after the speeches.
The police stopped the crowd several times citing the Ocalan posters they were carrying as an excuse.
The crowd chanted, "Long Live Ocalan" in response.
A group of German revolutionaries saluted the march with fireworks from the Rote Flora offices, which serve as a center for anti-fascists to gather.
The group also opened a PKK flag to salute the revolutionaries who lost their lives in the Kurdish freedom struggle.
The crowd frequently chanted "Siyar Gabar is immortal", "Shehid namirin", "Biji Serok Apo", "Biji berxwedana zindana" and "Terrorist Erdogan".
The march ended in front of the St. Pauli museum where the memorial was held.
"SIYAR GABAR REMINDED US OF OUR RESPONSIBILITIES"
A memorial was held after the march in the St. Pauli museum. Reimer's mother, father and sisters as well as hundreds of people held a minute's silence at the start of the memorial.
KOMAW Representative Bave Huseyin gave a speech and said:
"Many people took to the mountains of Kurdistan because they found true freedom there. Comrade Siyar was one of them."
KNK Co-chair Nilufer Koc offered her condolences to Reimer's family.
"The Kurdish freedom struggle does not belong to just the Kurdish people. It belongs to all of progressive humanity," said Koc and added that the martyred international revolutionaries remind them of their duties and responsibilities.
The Tevgera Ciwanen Azad representative also gave a speech in the memorial service and said Reimer always wanted to be a good guerrilla, and that they will uphold his memory.
The memorial ended after Reimer's favorite music was played. The crowd in the hall offered their condolences to Jacob Reimer's family.