Light projection of Öcalan images in Bielefeld
Images of Abdullah Öcalan were screened on numerous buildings in the city on Wednesday evening. The light projection was an installation by activists of the Kurdish youth movement.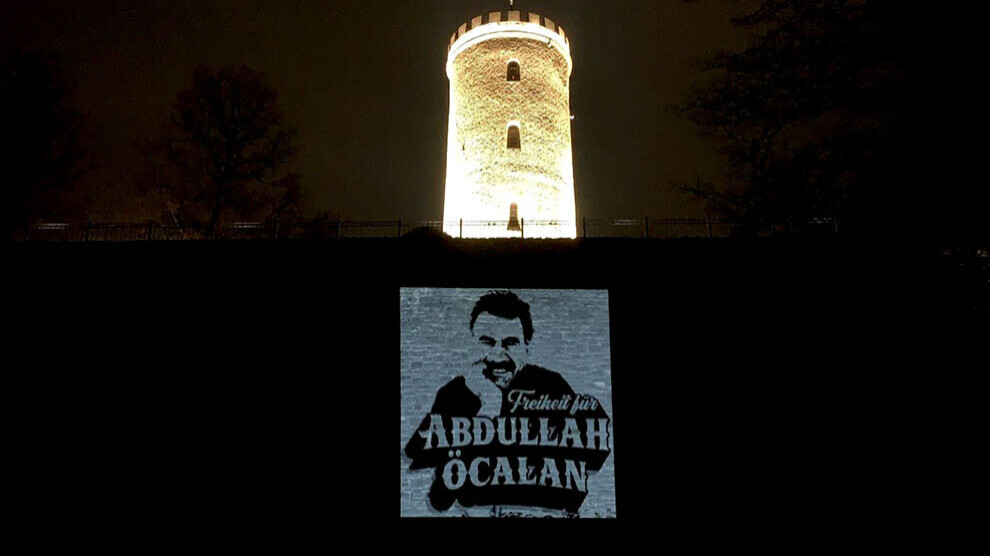 On Wednesday evening, activists from the Kurdish youth organizations TCŞ and TEKO-JIN from Bielefeld called for the freedom of Abdullah Öcalan with a projection on several buildings.
The action was part of the campaign "End Isolation, Fascism and Occupation: Together to towards the uprising". The image of the PKK founder shone on the town hall of Bielefeld, the Sparrenburg, the most famous sight of the city, the art gallery, the Kesselbrink and in the Ravensberger Park.
"Contrary to the politics of repression against the Kurdish movement and all attempts to ban Öcalan's ideas and to demonize the legitimate resistance of the Kurdish freedom movement and its sympathizers, we as young people say clearly: We are many, we are international, we won't accept prohibition", said the organisers about the action.
The light projection was also complemented by a slide show in some places and received a positive response. Passers-by engaged in conversation with the Kurdish youth and were informed about the situation of Abdullah Öcalan, who has been imprisoned on the Turkish prison island of Imrali since 1999.
For weeks nationwide and beyond, attention has been drawn to Abdullah Öcalan's continued solitary confinement with creative campaigns.
TCŞ and TEKO-JIN are actively involved in the global campaign launched by the KCK on 12 September.
A demonstration for the Kurdish leader will take place in Stuttgart on 5 December 5th.