Kurds protest in front of the French Consulate in Düsseldorf
On the eighth anniversary of the murder of three Kurdish women revolutionaries in Paris, a protest took place in front of the French Consulate in Düsseldorf, Germany.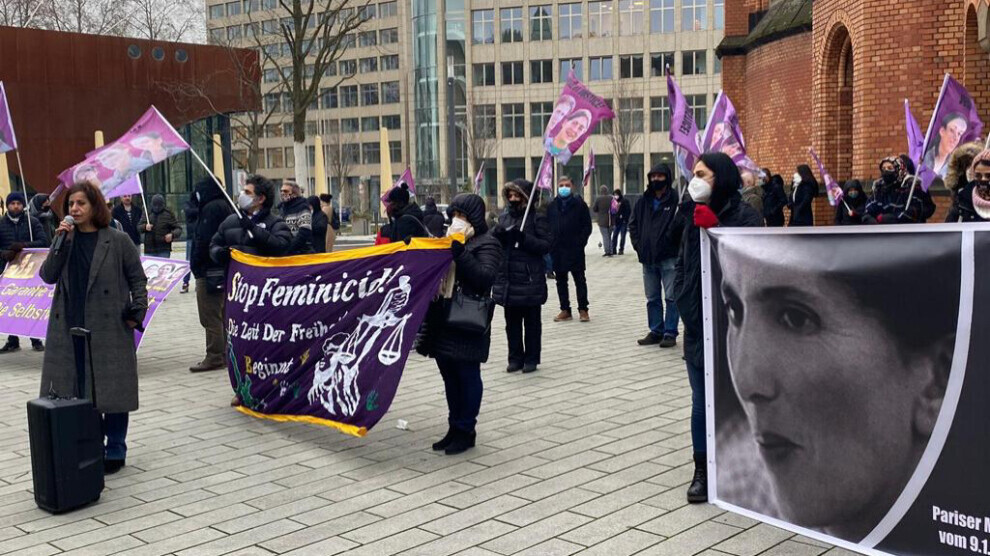 A rally was held in front of the French Consulate in Düsseldorf for Sakine Cansız, one of the founders of the PKK, KNK Paris representative Fidan Doğan and Kurdish youth movement member Leyla Şaylemez  who were murdered by the Turkish state in Paris on January 9, 2013.
Approximately 80 people from Düsseldorf, Dortmund, Cologne, Duisburg, Essen, Bonn Women's Councils and the Democratic Community Center attended the rally organized by YJK-E - NRW components.
A declaration of the Kurdish umbrella organization TJK-E (Kurdish Women's Movement in Europe) was read out during the protest. It was pointed out that although the perpetrators of the massacre were revealed and the evidences were presented to the French judiciary, the massacre still remains unpunished.
Banners that read "Erdogan responsible for the massacre", "Self-defense is the guarantee of our freedom", as well as the flags of TJK-E and the pictures of the 3 murdered Kurdish female revolutionaries were displayed at the demo.
Speaking on behalf of YJK-E, Ayten Kaplan denounced that the impunity in the Paris killings paved the way for new massacres.
Kaplan also pointed to the "100 thousand signatures for 100 reasons" campaign launched by the women's movement to prosecute the Turkish dictator a while ago and demanded that Erdoğan be brought to justice.