Kurds continue their vigil outside the UN office in Geneva
Kurdish activists continued a sit-in protest in front of the United Nations Office in Geneva protesting against the isolation imposed on Kurdish leader Abdullah Öcalan in Turkey.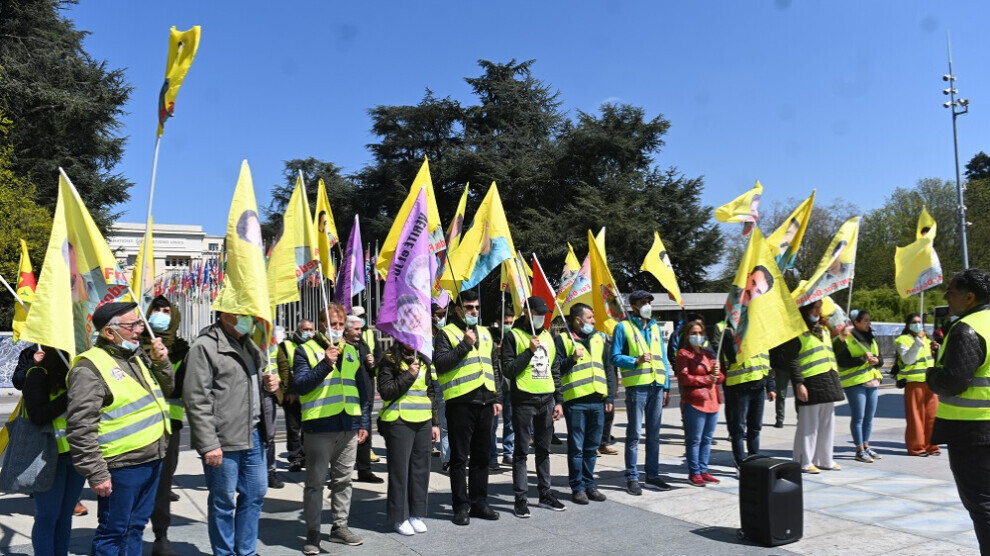 Kurdish activists have been staging a sit-in protest in front of the UN Geneva Office since January 25 to demand freedom for Kurdish People's Leader Abdullah Öcalan and to draw attention to the massive hunger strikes by political prisoners in protest at isolation and severe violations of rights in Turkish prisons.
The activists resume their protest in a tent they set up in front of the UN Geneva Office every Wednesday. This week's action was led by Kurds from Winterthur.
In a symbolic action, they turned their backs on the UN building again this week to protest its ignorance and silence in the face of their demand for Öcalan's freedom.
This week's action began with a minute of silence in memory of the martyrs of the Kurdish freedom struggle and celebrated the Yazidi holy feast Çarşema Sor (Red Wednesday).
Kurdish politician Metin Mintaş in the name of the Kurdish Community Centers in Switzerland (CDK-S) highlighted the all-out struggle in four parts of Kurdistan and in prisons and diaspora, as part of the "Time for Freedom" campaign demanding freedom for Kurdish people's leader Abdullah Öcalan.
Mintaş said the following: "International institutions should fulfil their mission immediately in order for concerns over the health and life of our leader to be relieved and in order for Öcalan to meet with his lawyers. This process should base on ending of the isolation torture and achievement of the Kurdish leader's freedom. In response to the hypocritical policies of the European states that continue to shut their eyes to isolation and massacres for the sake of own interests, we will reclaim the Freedom Campaign with even more resolution and crown our resistance with victory."