Kurdish hunger striker in Nurnberg: Ocalan is our mind and heart
Kurdish hunger striker Şiyar Xelîl: "We say 'Life is not possible without Ocalan' because he is our language, our culture, our mind, our heart and the very sense of our being. We have gone on a hunger strike for the freedom of our leader."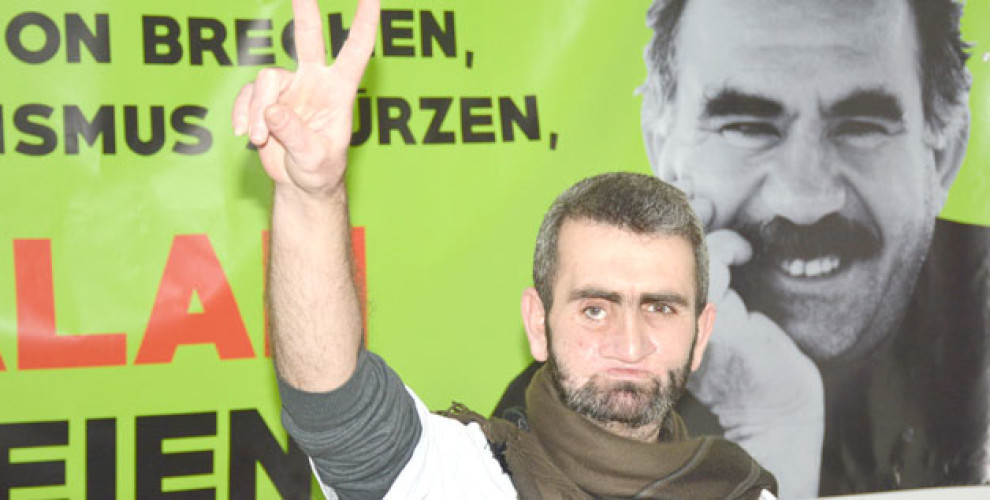 Şiyar Xelîl is a young Kurdish man from Rojava, northern Syria. He has been on an indefinite hunger strike in the city of Nurnberg in Germany for 13 days to protest the isolation of Kurdish People's Leader Abdullah Ocalan.
Xelîl, born in 1987 in Derik region of Rojava, was brought up in a patriotic Kurdish family.
Scars of war on his body
Xelîl was severely injured as result of a bombing in Damascus in Syria. He was under medical treatment in Damascus, Hasakah, Derik, Hewler, and later on he was transferred to Europe for surgeries. 
Xelîl pointed out to the aggravated isolation of Abdullah Ocalan, and stressed that the world had turned a blind eye to this injustice.
"Apo is the leader of the Kurdish people. In the past three years there has been no news on his condition. During this time our people in Cizre, Sur, Nusaybin and Afrin were burnt alive in conflict. The world clearly witnessed these developments yet chose to be silent. A fascist named Erdogan attempts to carry out a genocide against Kurdish people throughout four parts of Kurdistan – yet the world has turned a blind eye. It is hard for me to believe this. If Ocalan was free, these massacres would not occur. The Kurdish question and Kurdistan are a reality that Ocalan has well proved to the world. The international community has comprehended this reality, yet continues with their tricks," said Xelîl.
Ocalan is our mind and heart
"The health, security and freedom of Ocalan are critically important to us. The isolation of Ocalan should immediately end, and he must be able to live in a free atmosphere. The massacres and attacks against the Kurdish people should stop. No matter the price, we will continue to insist on our demands. The world must recognize the rights of the Kurdish people. We say 'Life is not possible without Ocalan' because he is our language, our culture, our mind, our heart and the very sense of our being. We have gone on a hunger strike for the freedom of our leader. Our action will not stop as long as the isolation is in place. What is important is the life of our leader, not our health. A single word of Ocalan is of great value to us," Xelîl added.
Our people must rise up
Xelîl called upon the Kurdish people, particularly the youth, to continue the struggle and take to the streets; "The Kurdish people in Europe must rise up. There is a massive threat of genocide in Kurdistan. Everyone must carry out their moral and ethical duties. We should not wait until the martyrdom of hunger strikers. All hunger strikers are perfectly aware of the price they will pay during the hunger strike. The Kurdish people must rise up," he added.
Source: Yeni Özgür Politika