KCK's Bayık: Leader Öcalan's struggle is now coming to fruition
Bayık sent a video message to the march held in Dusseldorf, Germany and said: "Leader Apo's struggle is now coming to fruition. Not just for the Kurds, this struggle is creating positive results for all peoples and is going down in history."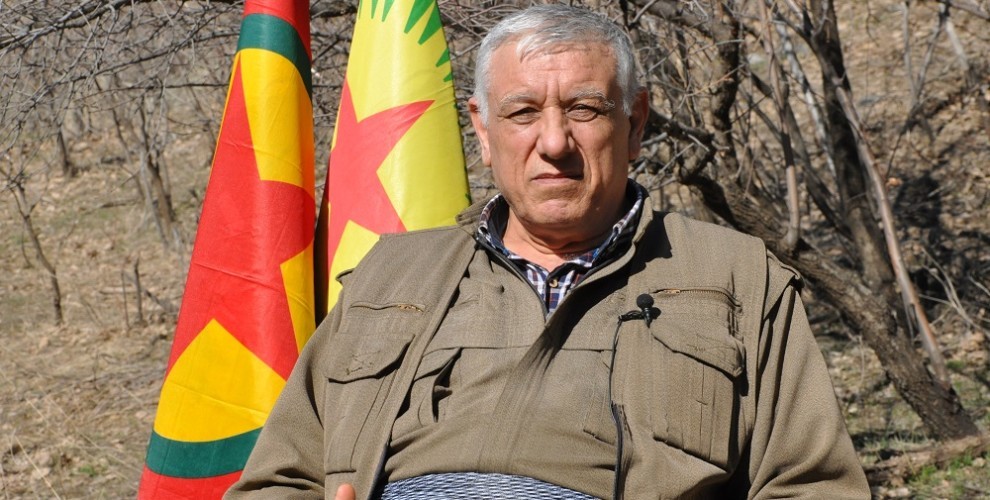 KCK (Kurdistan Communities Union) Executive Council Co-chair Cemil Bayık sent a video message to the march held in Dusseldorf, Germany on Saturday with the slogan "No pass for fascism! Freedom for Abdullah Öcalan and all political prisoners".
Bayık spoke about developments in the Middle East and stated that the Kurdish freedom struggle gives peoples hope.
Highlights from Bayık's speech are as follows:
"As Leader Apo's and the guerrilla's struggle gives hope to peoples, it scares the states with power. They consider the struggle Leader Apo has waged a danger to themselves. They don't want the seeds Leader Apo has sown to grow. That is why they attacked Leader Apo and shut him with the conspiracy. But as a result of the glorious struggle our people have waged, this conspiracy hasn't achieved its goals.
Enemy to the Kurdish people, the fascist Turkish state pressures Leader Apo today. Erdoğan collaborates with everyone within and outside of Turkey and attempts to harm the Kurdish freedom struggle.
Our people everywhere today protect Leader Apo, their future and their values. I salute our heroic people, I thank them. Especially our people in Europe and Rojava are standing up every day, protesting.
Many circles throughout the world, many revolutionaries support Leader Apo's philosophy, join in the struggle, they are martyred. I salute these revolutionaries.
Today, Kurdish women are on the streets protesting for Leader Apo. Kurdish women have promoted the Kurdistan freedom struggle to the world. I salute Kurdish women and I send them my respects.
Leader Apo's struggle is now coming to fruition. Not just for the Kurds, this struggle is creating positive results for all peoples and is going down in history. What we need to do is to protect this struggle, Leader Apo and the line he has developed, to understand it and to implement it. When we do that, we will achieve great results.
The Kurdish people should take lessons from the developments in Southern Kurdistan. Kurds don't need power, Kurds need freedom and democracy. The Kurdish people and revolutionaries need to develop good relationships with the peoples in the region's countries and develop the struggle for freedom and democracy. A joint struggle by the peoples is needed to change Turkey's, Iran's and Iraq's racist and fascist mindsets.
When the joint struggle of the peoples is developed, the Kurdish issue will be resolved and democracy will flourish. To that end, the Peoples United Revolutionary Movement (Halkların Birleşik Devrimci Hareketi - HBDH) has been developed in Turkey. This model needs to be developed everywhere. If the HBDH acts in accordance with its mission, it can defeat fascism in Turkey. Whatever problems there are, the HBDH should put them aside and make the fight against fascism a priority. Because the AKP-MHP fascism is on its way down.
A democracy front in Turkey should be formed at once. The fascist government is at its weakest. We can defeat fascism through a joint struggle.
The measure for being a democrat and a socialist is to protect Leader Apo. Leader Apo's struggle is the peoples' struggle for freedom. Protecting Leader Apo is the first priority in fighting fascism.
I am calling on all our people, intellectuals, democrats and all who object to fascism to the joint struggle, to fight for the freedom of Leader Apo and to join the protests against the Imrali torture system."