Hrant Dink commemorated in Istanbul: 15 missing years
In Istanbul, thousands of people in front of the former editorial building of the Armenian weekly Agos commemorated the journalist Hrant Dink, who was murdered 15 years ago by a Turkish fascist.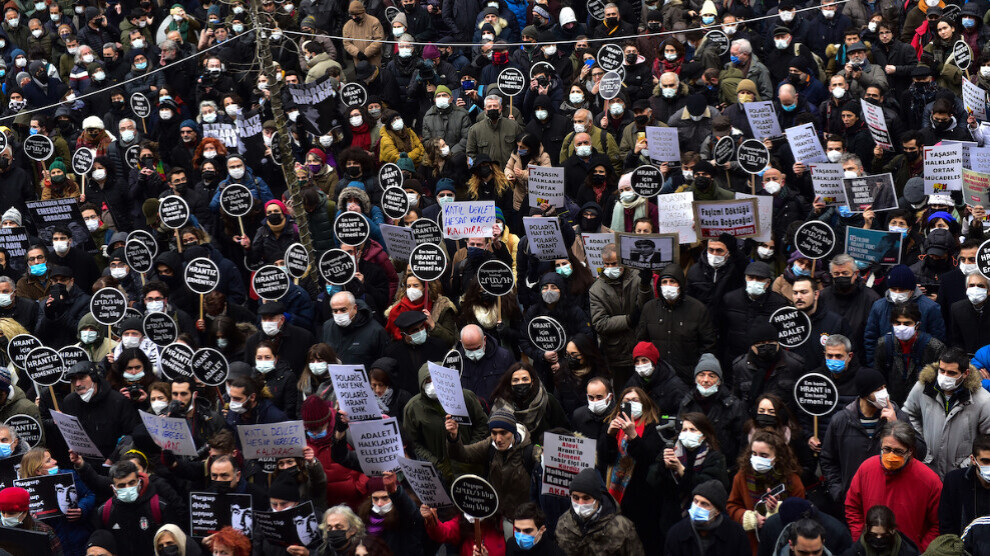 Armenian journalist Hrant Dink was shot dead in the street outside the building of the weekly newspaper Agos in Istanbul on 19 January 2007. For years he was persecuted by nationalist forces in society and the judiciary because he described the genocide of the Armenian people in the Ottoman Empire as such. Even shortly before his death, he was subjected to hostility from ultra-nationalist circles and judicial persecution - for "insulting Turkishness". Dink campaigned for the rights of minorities and for reconciliation between Armenians and Turks, for democracy, freedom and social debate about the genocide of 1915. To this day, the Turkish government categorically rejects this classification.
A memorial service for Hrant Dink took place at the crime scene in Istanbul on the anniversary of his assassination. Despite pandemic conditions, thousands of people gathered in front of the former editorial building at Halaskargazi Street, including family members, HDP and CHP deputies, as well as representatives of Saturday Mothers and numerous other parties and organisations. The street was cordoned off by the police from both sides, and preliminary checks were carried out.
A huge picture of Hrant Dink with the words "15 missing years" hung on the building. Carnations were laid on the pavement and candles were lit. People held photos and signs saying "For Hrant, for justice" in several languages.
At 3.05 pm, the time of the murder, the Dink family came to the memorial site and a minute's silence was held. Afterwards, a recording of a speech by Hrant Dink was played. Rakel Dink addressed her murdered husband and said, "15 years have passed since the bullets fired into your back took you from us. I can still hear your voice. When you told what was done to your people, you were accused of treason and stabbing them in the back every time. And you always said: love your enemies, be kind to those who hate you, wish good to those who curse you, pray for those who insult you."