HDP's 'Vigil of Conscience and Justice' will continue in Istanbul
The 'Vigil of Conscience and Justice' launched and led by 10 HDP parliamentarians in Amed will continue in Istanbul.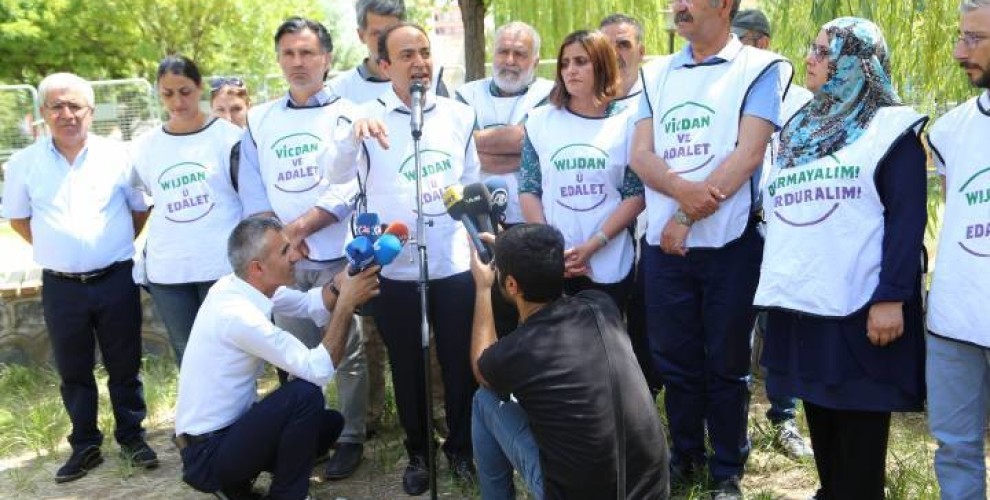 The first round of the 'Vigil of Conscience and Justice' led by the Peoples' Democratic Party (HDP) in Amed has ended. For days, the Turkish police were putting up barricades around the park where the activity was held, and evacuated even the whole surrounding streets and have blocked the roads during the statement given by the activists on the last day in Amed.
In the last statement, the parliamentarians held up placards which read "NO to oppression", "Justice for everyone" and "We shall not stop, but make them stop".
HDP spokesperson Osman Baydemir made a statement to the press on behalf of all participants in which he summarized the obstacles imposed on them by the state forces with the words, "Let me draw a summary from this 7 days action: Fascism has displayed its fear of the people. Fascism has lost once again."
Baydemir stated that conscience and justice will prevail in the end over everything, and announced that the vigil which started in Amed will be continued in other cities, beginning with Istanbul and continuing in Van and İzmir.
Baydemir said: "The conscience of millions of people will break apart fascism and as soon as fascism is dissolved, opportunities will show up in front of us to build a bright future for our children. Either we will raise our voice today, or we won't ever be able to look into the face of the coming generations. We have reached a stage which begs for the raise of the call for conscience."
The HDP vigil to kick off in Istanbul's Yoğurtçu Park tomorrow will be joined by Co-chair Serpil Kemalbay and 12 deputies.
The MPs to partake in the vigil are: Filiz Kerestecioğlu, Sırrı Süreyya Önder, Nadir Yıldırım, Mithat Sancar, Hişyar Özsoy, Ayşe Acar Başaran, Bedran Öztürk, Erdal Ataş, Leyla Birlik, Sibel Yiğitalp, Erol Dora, İbrahim Ayhan.
HDP Co-chair Serpil Kemalbay will hold the parliamentary group meeting of the party at Yoğurtçu Park at 12:30 tomorrow noon, after which the one-week vigil will be started.
Representatives of political parties, unions, trade associations and non-governmental organisations in addition to ecologists, intellectuals, writers and artists are expected to support the vigil of the HDP.