HDP delegation met German Minister Roth
The HDP delegation has met with Germany's Minsiter of State for Europe Michael Roth as part of their visit in Berlin.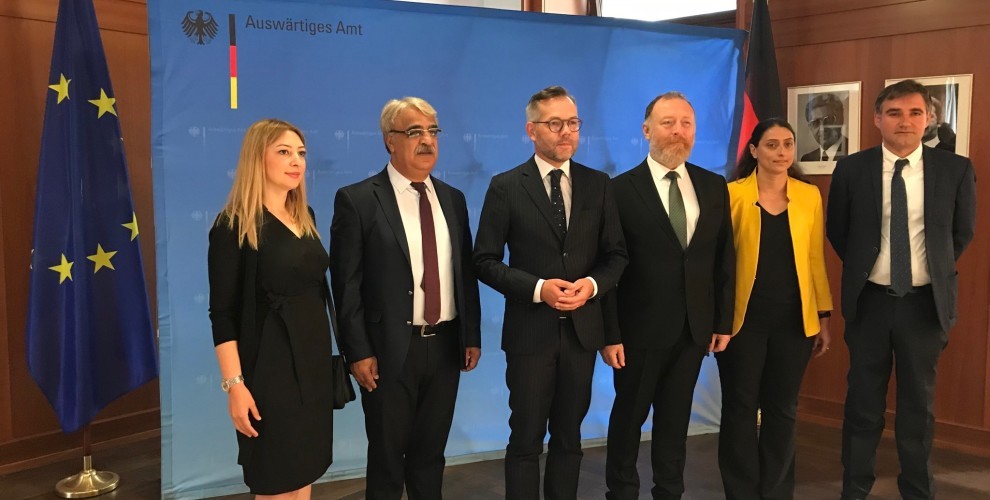 Roth spoke after the meeting and said, "If Turkey takes steps again, the EU accession process can begin."
The bout of diplomacy launched in Berlin, Germany by the HDP at the top level to garner support for the struggle for democracy against the Erdoğan regime continues on its third day.
The committee headed by HDP Co-chair Sezai Temelli includes HDP MPs Mithat Sancar and Feleknas Uca, as well as HDP Germany Co-spokespersons Leyla Imret and Sinan Onal.
The HDP committee met with Minister of State for Europe Michael Roth today. The social democratic politician Roth received the HDP committee in the Ministry of European Affairs.
The hour-long meeting was held without press presence. After the meeting, Minister Roth gave a short statement for journalists. When asked whether Turkey's accession process to the EU, which have been on hold since 2016, Minister Roth pointed out the previous criticisms against the Ankara administration.
"NOT A PROGRESS REPORT"
Roth said the ball is in Turkey's corner in terms of the EU accession process: "We haven't put up obstacles against Turkey's accession. If the Turkish government takes steps again, of course this process will advance." On the progress report issued by the EU on Turkey's accession process, the German Minister said, "This is a report of regression, not progress."
Roth pointed out that all parties are in agreement about the criticisms voiced in the report: "The analyses in the report have been made entirely by EU institutions. There will be no more changes to the report, we foresee that it will be accepted as is."
After the HDP committee met with Roth, they were received by President Frank Steinmeier's foreign affairs officer Ambassador Dr. Thomas Bagger. There was no press statement after the meeting in the Presidential mansion.
The HDP committee will hold a meeting with SPD Parliamentary Group Chairperson Andrea Nahles in the afternoon, and will be officially received by Federal Parliament Vice President Claudia Roth in the parliament.