Germans and Kurds take to the streets against arms trade
Protest marches will be held on May 5 against German weapons manufacturer Rheinmetall. Protests are planned against German weapons manufacturer Rheinmetall from May 5 onwards.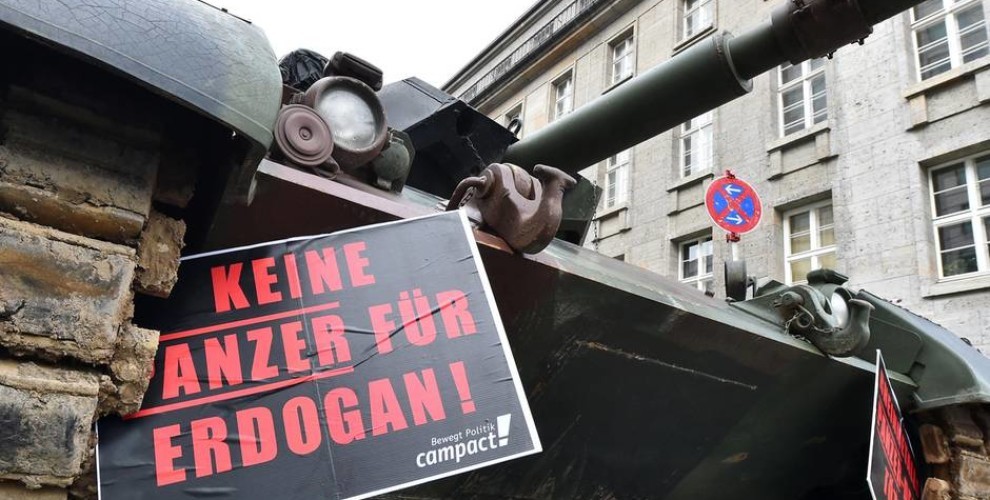 Organized by pro-peace and anti-war organizations including Kurdish institutions, protests against arms trading will be held in various cities between May 5 and 21.

NAV-DEM Co-chairs issued a statement and pointed out Germany's support for Turkey's war against Kurds. NAV-DEM said Germany is a first degree country that stands with Turkey, and criticized that the Berlin administration stood close to the Turkish state during the invasion attacks against Afrin and supported the war.
NAV-DEM said: "As German tanks are used against the civilian population in Afrin, despite increasing protest, Germany avoids sanctions against Turkey. The Merkel Government should be taking initiatives to have Germany condemn the invasion attack within NATO, but they choose to be a partner in the crimes the Turkish state has committed. They are still partners."

NAV-DEM said the German government provided the Turkish state with 4.4 million dollars worth of weapons and equipment in just 20 days as the Turkish state was attacking Afrin, and added: "Those who sold these weapons to the Turkish state have become partners to these bloody crimes."

NAV-DEM pointed out that the Turkish state gathered ISIS and Al Nusra gangs under the guise of FSA, and added that the German Leopard 2 tanks were put to service for ISIS and that these tanks were used in the looting of Afrin.
GERMAN GOVERNMENT SHOULD SIDE WITH KURDS
"The Merkel government is not on a correct path," said NAV-DEM and stated that Germany selling weapons to the Turkish state is unacceptable. NAV-DEM called on the German government to stand with the victims and said: "The German government should have a Kurdish policy, they should take a position standing with Kurds. It is Kurds who lost their children, lost their families, who were killed. All these were made possible with the weapons the German government sold Turkey, and their economic and political support."

NAV-DEM called for an increased struggle and increased pressure on the parliament and the government for these reasons, and called on all constituents to participate in the May 5 marches towards the Rheinmetall weapons factory.

PROTEST CALENDAR
The protest calendar is as follows:
Düsseldorf: May 5, 2018, at 11.30, DGB Haus, Friedrich-Ebert- Straße 34 – 38
Berlin: May 5, 2018, at 15.00, S/U Westhafen/Platz vor dem MOA Bogen 5
Berlin: May 7, 2018, at 17.30, in front of the Hotel Maritimin (share owners in Rheinmettal will also be protested)
Berlin: May 8, 2018, at 10.00, march in front of Hotel Maritim, Stauffenbergstr. 26.
Göttingen: May 8, 2018, at 19:00, Zentrales Hörsaalgebäude Universität Göttingen, Platz der Göttinger
Sieben 5 (panel discussion titled "Germany's arms sales-war boons to foreign countries")
Stuttgart: May 10, 2018, at 12:00, in front of US-AFRICOM-Stuttgart-Möhring, peace rally against US military bases
Münster: May 12, 2018, at 11:00, city center /48143 Müster (panel discussion titled "Are ethical economy and arms trading compatible")
Stuttgart: May 14, 2018, at 19:00 Welthaus Stuttgart/Charlottenstr. 17 (Panel discussion titled "No mercy towards the whole world")
Stuttgart: May 15-17, 2018, protests against the weapons expo between Messegelände/ Messepiazza 1
Stuttgart: May 15, 2018, at 08:00-09:00, Landgericht Stuttgart, Olgastr. 2 ("Others save lives - we support others to kill"- warning watch against Heckler & Koch weapons company)
Stuttgart: May 16, 2018, at 17:00, Messe Stuttgart, Messepiazza 1 (rally to demand world peace against the weapons expo)
THE LONG MARCH
There will be a long march in the Baden-Württemberg State from May 21 to June 2 against arms trading. The march will start in Oberndof and end in Berlin.