German police attack the Kurds against fascism in Dusseldorf
Dozens have been injured or detained as the German police attacked the Kurds joining a centralized march in Dusseldorf against AKP fascism and German state's criminalization of the Kurds and democrats.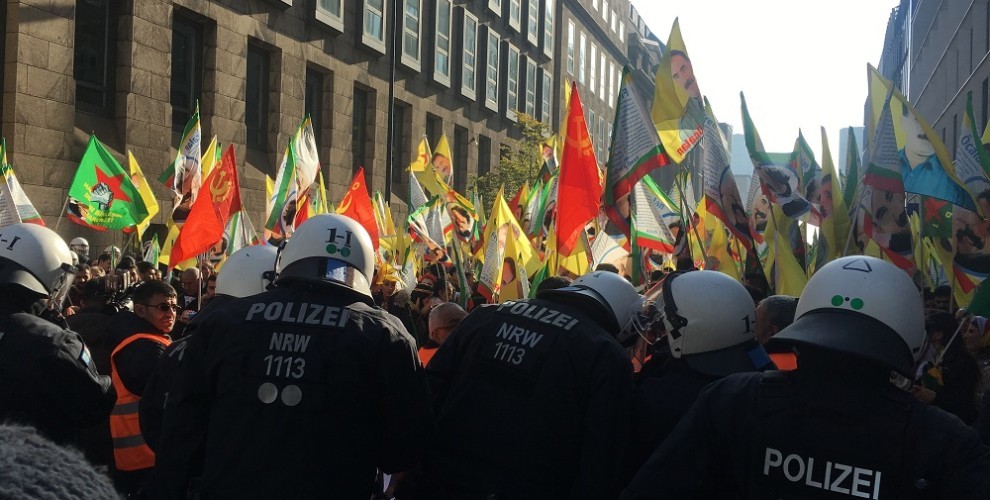 A centralized march is being held in the German city of Dusseldorf today in protest at the AKP fascism, aggravated isolation of Kurdish People's Leader Abdullah Öcalan, repression of political prisoners and criminalization of the Kurds and democrats in Germany.
Before the march began, the German police banned posters of Abdullah Öcalan as well as flags and symbols of Kurdish organizations such as YPG and YPJ that are leading the struggle against ISIS in Rojava and Syria. Refusing to obey the ban, demonstrators have started their march carrying Öcalan's posters and flags of the PKK, YPG and YPJ.
15 minutes after the march began, police forces tried to obstruct the mass by putting up barricades before them, and made announcements to not raise Öcalan's posters. After the participants in the "red" and "green" arms of the demonstration united at Heinrich-Heine Allee Avenue, Kurds started sit-in here amid continued announcements, and protested the police obstruction raising Öcalan's posters and PKK flags even higher.
Police therewith attacked the mass with water cannons and tear gas. Dozens were injured as result of the violent crackdown, against which the demonstrators protested by unfurling a huge PKK flag and chanting "Bijî Serok Apo" (Long Live Öcalan).
Dozens of others were taken into custody as the aggression continues and the mass continues their resistance chanting "Bijî Serok Apo" and holding Öcalan's posters and PKK flags high.
KONGRA-GEL Co-chair Remzi Kartal called on the Kurds and their friends to join the demonstration and condemn the attack of the German police.