EU delegation visits HDP İzmir headquarter
European Union (EU) delegation has visited the Peoples' Democratic Party (HDP) İzmir headquarter where party employee Deniz Poyraz was murdered last week.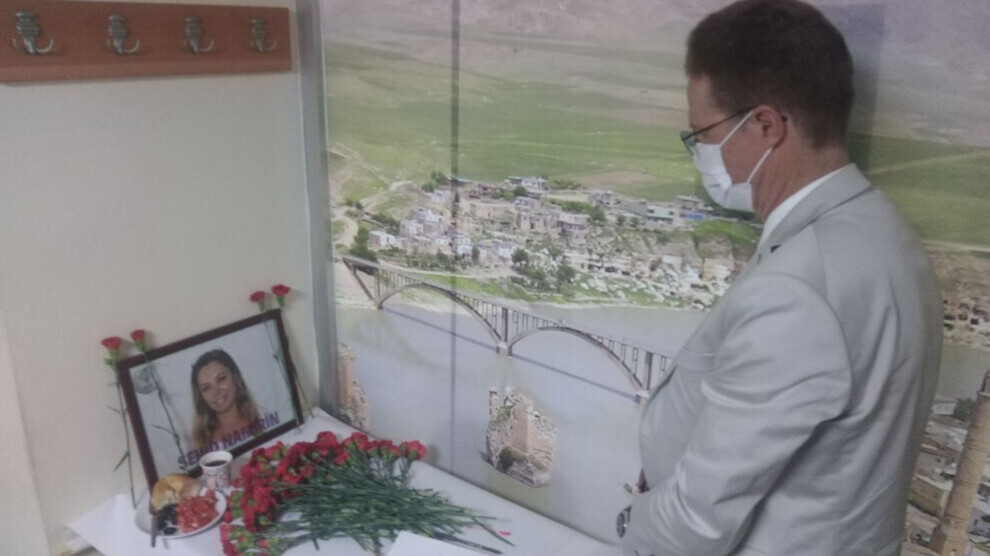 The murder of party employee Deniz Poyraz in an armed attack by Onur Gencer against the Peoples' Democratic Party (HDP) İzmir Headquarter on June 17 has sparked reactions. A delegation from the European Union that included head of EU Delegation to Turkey Ambassador Nikolaus Meyer-Landrut and EU Press Adviser Miray Akdağ, head of EU Delegation Unit Alexander Fricke, EU Delegation Project Manager Lisa Westling, was welcomed by HDP İzmir deputy Murat Çepni, HDP İzmir provincial co-chairs Besriye Tekgür and Kadir Badur and the members of the Peace Mothers Assembly.
The EU delegation first visited the scene where Poyraz was murdered.
Nikolaus Meyer-Landrut offered his condolences to the young woman's family and the HDP. The delegation examined the party building and received information about the incident.
'WE CONDEMN THE HORRIBLE ATTACK'
Speaking here, Nikolaus Meyer-Landrut said, "We are here to condemn the horrible attack on the HDP". Meyer-Landrut conveyed his respect to Poyraz and her family. "I also give my warm wishes for the local HDP executives."
Speaking after, HDP İzmir provincial branch co-chair Besriye Tekgür said, "The attack was not carried out only against our party or our comrade Deniz. The attack was carried out against all peoples in Turkey and democracy. We hope that the government will use its language more carefully against the opposition from now on."
After the speeches, the meeting continued closed to the press. After the meeting, which lasted about half an hour, Landrut placed carnations on the spot where Deniz Poyraz was murdered and observed a minute of silence.