"Erdoğan is responsible for the assassination plans in Germany"
Representatives from Kurdish institutions held a press conference in the Hamburg State Parliament and announced that a man named Mustafa Karataş is acting on behalf of MİT to plan attacks against them.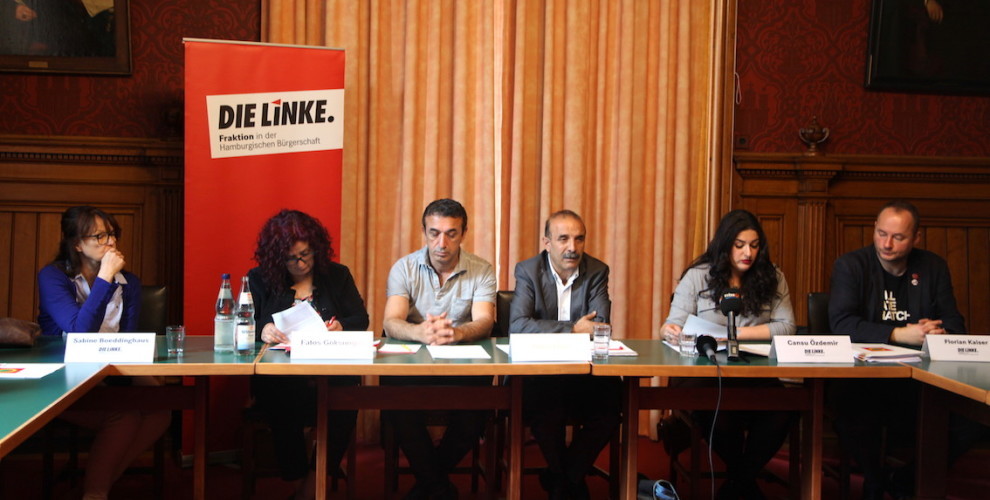 Representatives from Kurdish institutions and Die Linke administrators held a press conference in the Hamburg State Parliament in Germany and informed the public of the Turkish Intelligence MİT activity in the country. Die Linke Hamburg State Parliament MP Cansu Özdemir, KCDK-E Co-chairs Fatoş Göksungur and Yüksel Koç and Die Linke administrators Sabine Boerddinghaus and Florian Kaiser were present in the press conference.
The representatives announced they have uncovered that the man named Mustafa Karataş, Hamburg resident originally from Çorum, Turkey, who has been infiltrating their institutions for years is a MİT operative. The recordings they are in possession of show the man frequently giving information to MİT officials, receiving orders from them and that he has attempted assassinations on Kurdish politicians. The representatives stressed that the espionage activity is planned and organized and that the order has been given by Turkish President Recep Tayyip Erdoğan himself. They demanded that Erdoğan be arrested in Germany if he comes to Hamburg.
"THE JUDICIARY SHOULD DO THEIR JOB"
Cansu Özdemir gave the opening speech in the press conference and spoke about the MİT activity in Germany. Özdemir said Germany should take precautions and stressed that Mustafa Karataş isn't alone in his activities, calling on the judiciary to fulfill their duty.
"WHY IS THE GERMAN STATE SILENT?"
KCDK-E Co-chair Fatoş Göksungur spoke after Özdemir and stated that the MİT is involved in assassination plans against Kurdish politicians. She said they don't want to see a situation similar to the events of 2013 in Europe and that it would be the German state's responsibility if such events come to pass. Göksungur continued: "Threats and plans against Kurdish politicians and Yüksel Koç in particular show that this is an organized activity. It was known that we were going to hold this press conference today, so a dead pigeon was left on Yüksel Koç's doorstep yesterday. He receives threats on the phone every day. The German authorities are aware of this, but they continue in their silence. This makes us think. In the recordings, Mustafa Karataş talks about people like Zübeyir Aydar, Yüksel Koç, Cansu Özdemir and Sevahir Bayındır. The cases against Erdoğan's advisor Gergerlioğlu whose espionage activity was exposed before, Fatih Mehmet Sayan and Mustafa Karataş should be combined and investigated. Fatih Sayan's case is not an individual case.
"ERDOĞAN SHOULD BE ARRESTED ON ARRIVAL IN GERMANY"
Göksungur stressed that in any case of an attack on Kurdish politicians in Europe, Germany would be responsible and added: "Because Erdoğan has personally ordered these activities. There is serious espionage activity in Europe right now. Kurdish politicians are being targeted. Because of this, our demand is that Recep Tayyip Erdoğan be arrested on arrival in Germany.
"WHERE ARE THE PEOPLE MENTIONED IN THE RECORDINGS?"
The other KCK-E Co-chair Yüksel Koç stated that there is serious espionage activity against Kurdish institutions and that they have substantial documents showing this. Koç said they submitted the evidence to authorities in Germany, France and Belgium and added: "Right now, we have many more documents. If these states are serious about the issue, we are prepared to submit them. The Turkish state is conducting systemic and planned espionage activity, and we ask the German state: Who are Mr. Cemil, Mr. Doğu, Selçuk and Binali mentioned in the recordings? Do they live in Germany now, or are they in Turkey? We want to know these things. The German state should uncover these."
BAYINDIR'S LIFE IS IN DANGER
Koç continued: "In the recordings, Karataş is told to inform the MİT of the politicians' whereabouts 3 hours before. The goal there is very clear. Sevahir Bayındır's life is in danger. There are many other names mentioned. All these politicians' lives are in danger. The German state should prevent possible attacks on these people and they should be protected. 
Right now, the Hamburg Prosecutor wants to individualize Mehmet Fatih Sayan's case. We believe this to be wrong. This is an organized and planned activity. Germany should sue Erdoğan for organizing this in Europe and giving the orders. All cases should be combined and turned into a single investigation. The DİTİB imams and many other Turkish institutions should be barred from the integration councils."
The press conference ended after questions by journalists.
Related News: