Die Linke MPs: "Europe should consider Afrin the new Vietnam"
Die Linke MPs in the Federal Parliament celebrated Newroz for the Kurdish people and pointed out that the solidarity with Afrin should continue.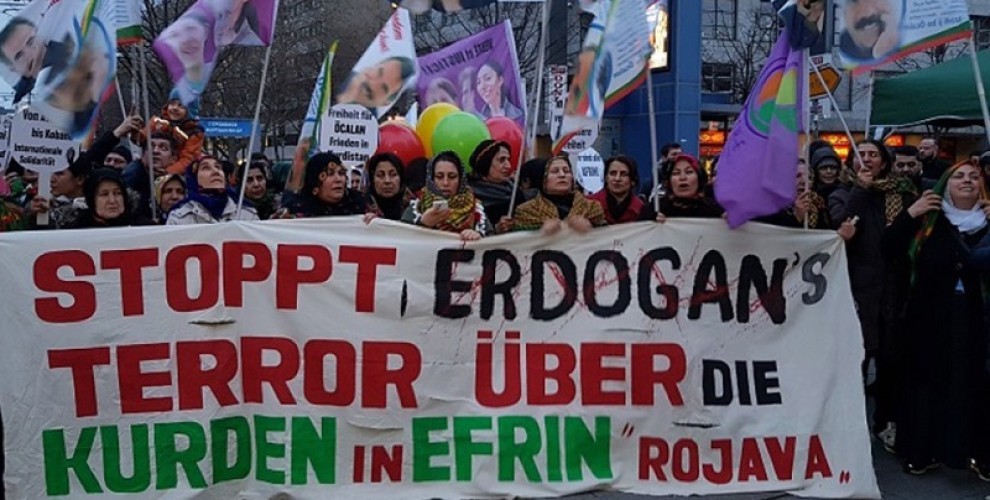 Through the ANF 10 MPs from Die Linke, one of Germany's opposition parties, celebrated Newroz for the Kurdish people, starting with those who resist in Afrin. MPs said they as Die Linke will not remain silent in the face of the events in the region and demanded the solidarity with Afrin continue, issuing important calls for the Merkel government.
MPs pointed out the war the Turkish state wages in Afrin with no regard for international law and said: "The Federal Government should at this point call this war what it actually is." The calls and messages issued by the MPs for Afrin are as follows:

ULLA JELPKE: Erdoğan's war crimes should absolutely be condemned by Germany. We must show solidarity for Kurds who were displaced in Afrin and Rojava. I repeat, Germany should lead the way in putting Erdoğan on trial. I celebrate Newroz for all, with this sentiment.

DIETER DEHM: Afrin represents a resistance, like Kobanê. We can live with Western values due to the resistance put forth there. Like the Red Army's struggle 75 years ago allows me to speak freely here today, a similar struggle has been waged in the region. But unfortunately now Germany is aiding a bloody dictator's war with its money and weapons. Despite bad news from Afrin, I celebrate Newroz for the Kurdish people.
STEFAN LIEBICH: I would like to state that we are in solidarity with the people of Afrin whose rights according to international law have been trampled. As Die Linke, we cannot stay silent in the face of the events in the region, and we don't want to be. We criticize our own government, as well as the Turkish government, because they remain silent and continue the arms trade. We repeat our solidarity with the people resisting in Afrin.

KATHRIN VOGLER: I would like to state that we stand with those who have been displaced and are trying to survive under attacks by the Turkish state. I expect the Federal Government to start calling this war what it actually is, i.e. a violation of international law. I am shamed by the execution of this war through German weapons that were provided with the approval of the Federal Government. This unfortunate game is not a good sign for this country either. I am calling on Afrin, we stand with you, bijî Afrin.
NICOLE GOHLKE: Esteemed friends, I hope this Newroz brings you a new beginning. I know that the Kurdish movement deals with hardship well, and manages to remain standing through each rough period. We stand with you, I hope we can celebrate Newroz all together in better days.

MICHEL BRANDT: First I would like to celebrate Newroz for all of you. In these tough times, I hope you have a good Newroz and you can celebrate your feast well.

SIMONE BARRIENTOS: The photographs from Afrin affect me deeply. I can't even guess how much they affect people with relatives and friends there. This is a tragedy the human mind can't comprehend. I hope Europeans will consider Afrin to be a new Vietnam. I hope the Europeans who took to the streets against the war the US waged in Vietnam will take to the streets for Afrin today and say "enough" to the Turkish state's actions. We will continue to be on the streets in any case. We must not lose strength and courage, our fight will continue to the end.
ZAKLIN NASTIC: Despite the tragic events in Afrin, I celebrate Newroz for all. We stand with all democratic forces fighting in the region. We will continue our fight against this war where international law is ignored. Solidarity knows no bounds, and we support the struggle of the Kurdish people for freedom and women's rights wholeheartedly.

SYLVIA GABELMANN: I celebrate Newroz for all comrades. We will do all that we can to put on trial this war that ignores international law. All weapon sales to the Turkish state must end, in particular.

GÖKAY AKBULUT: Despite the grave incidents in Afrin and Rojava, I hope your Newroz will be well. I wish that all the diverse ethnic and religious groups of people who live together in Rojava continue to celebrate all holidays together. On this basis, Newroz pîroz be.