Demonstration in Switzerland: PKK is the people
Kurds and their friends are taking to the streets in protest at the US putting a bounty on three leaders of the Kurdish Freedom Movement.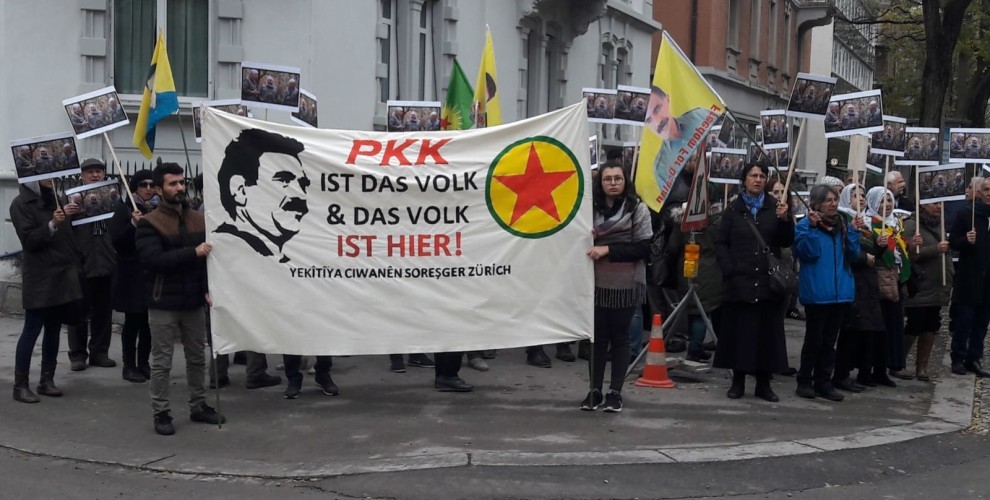 Kurds and their friends staged a protest in front of the US Consulate in Zurich.
They protested against the US decision to put a bounty on 3 senior PKK executives, Murat Karayilan, Cemil Bayik and Duran Kalkan.
People carried posters of the three PKK executives as well as of Kurdish people's Leader Abdullah Öcalan.
A press release was read in front of the US Consulate.
Meeting on 17 November
A protest will also be held in Zurich on 17 November at 3 pm. The rally will be in Rathausbrücke to demand freedom for Öcalan.
Demonstration in Bern
A demonstration to protest against the US decision to reward whoever provide information on the three PKK executives, was held in Bern.
At the demonstration activists reiterated their determination to continue with actions and protests to ensure the freedom of Öcalan.
HDK Europe spokesperson Demir Çelik delivered a speech in German. "We will continue to fill the streets - he said - until our Leader is freed. We will achieve a free Kurdistan despite the dirty policies carried out by the imperialist powers against the Kurdish people who struggle for freedom and democracy".
The Swiss Kurdish Women's Movement delivered a black wreath to the consular officers.
3-day action in Geneva ended
In Geneva, the 3-day tent action launched in front of the United Nations building under the leadership of Tevgara Ciwanen Şoreşger has ended.