Demonstration in front of CoE on week 5
Kurds in Europe continue the demonstrations held in Strasbourg to urge the Council of Europe (CoE) and the Committee for the Prevention of Torture (CPT) to take action continue on week 5 with activists from Switzerland and France.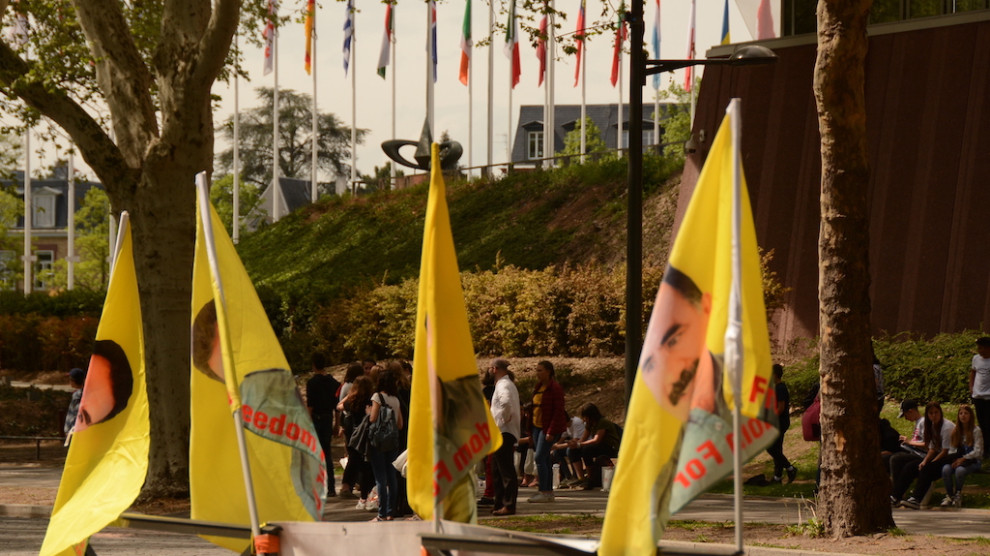 Kurds have continued a mass hunger strike and sit-in in front of the CoE and the European Parliament (EP) since March 25 to draw attention to the hunger strikes that have continued for months against the isolation imposed upon Kurdish People's Leader Abdullah Ocalan. Kurds from Switzerland and Alsace and Lorraine in France are taking over the demonstration this week, demanding that the CoE and especially the CPT, which is the body that has authority for prison visits, to fulfill their duties.
The demonstration will be held every Wednesday in front of the CoE and Kurds from various European countries will be participating. This week had a concentration of Ronahi Women's Assembly members from Basel.
KURDS GATHERED IN FRONT OF THE COE TODAY
Kurds gathered in Strasbourg on the call of Democratic Kurdish Society Congress Europe (KCDK-E) and Kurdish Women's Movement Europe (TJK-E) and repeated their call for the CoE and CPT. Kurdistanis also drew attention to the hunger strikes launched 168 days ago by DTK Co-chair Leyla Guven that thousands of prisoners in Turkey and 14 activists in Strasbourg joined 129 days ago, and protested the CoE and CPT's approach.
"EVEN IF THERE'S A COUPLE OF US LEFT WE WILL REMIND THEM OF THEIR DUTY
The Freedom for Ocalan Vigil also continues in front of the CoE on week 357. The activists gathered by the CoE and the CPT wore vests that read "Freedom for Ocalan" in various languages. Artist Kawa Urmiye condemned the silence of Europe in a speech at the protest where activists chanted slogans demanding freedom for Ocalan and drawing attention to the indefinite nonalternating hunger strikes protesting the isolation. Urmiye stressed that silence based on interests for a protest where the children of the Kurdish people are putting their lives on the line: "Everybody must know that even if there's a couple of us left, we will continue with this resistance and be right here so they will fulfill their duties."
The public showed great interest in the demonstration where activists passed out flyers on the isolation and the hunger strikes and chanted slogans explaining the purpose of the protest.  The crowd gathered in the morning for the protest which will continue until 17:00.