Democracy Vigil in Van taken over by women unionists
The Democracy Vigil to protest the political coup launched by the AKP against the HDP-run municipalities was taken over by the women's council of the Municipal and Local Government Workers Union (Tüm Bel Sen).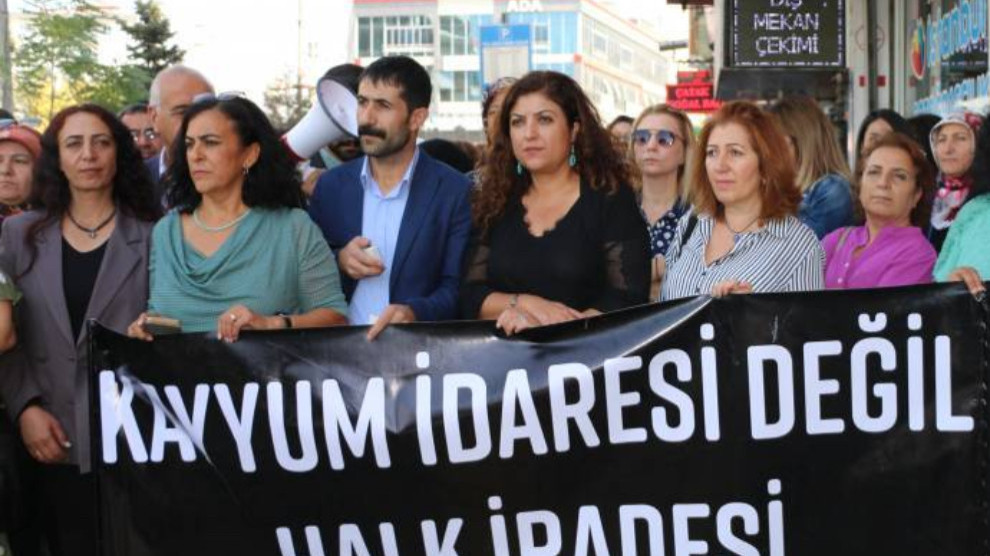 The Democracy Vigil in Van was held in front of the HDP Ipekyolu district building on its 47th day.
Actors, a large number of residents and members of the All Municipal and Local Government Workers Union (Tüm Bel Sen) Women's Assembly joined the action.
Democratic Resistance Party (DBP) Provincial co-chair Kava, Ökkeş, said: "We will continue to resist against this lawlessness, against this coup aimed at democracy."
Tüm Bel Sen unionist, Satı Burunucu, said: "We are municipal employees. We live and serve this city. While voting in elections, while fighting for democracy, we were exposed to dozens of pressure and obstacles. After the first imposition of trustees to Van Metropolitan Municipality, many of our friends were taken into custody, the union president and executive friends have been taken into custody. As a union, we are fighting against the trustees for their anti-democratic practices, their attachs on the rights of children, women and laborers."
Tüm Bel Sen Women's Assembly member Nazife Bayrak Tosu said that the seizure of municipalities amounted to a political coup.
Tosu reacted to the fact that the co-presidency system was seen as a crime. "It is a great achievement for women to take part in the administrations and be able to express themselves through the co-presidency system. The will of the people should not be violated. We want these illegal practices to end. The mayors elected by the people should be allowed to return to their duties immediately."