Demo in Berlin calls for the release of Ecevit Piroğlu from Serbian extradition custody
Activists in Berlin have demanded the immediate release of Ecevit Piroğlu from Serbian extradition custody. The political activist is threatened with deportation to Turkey and has been on hunger strike since June.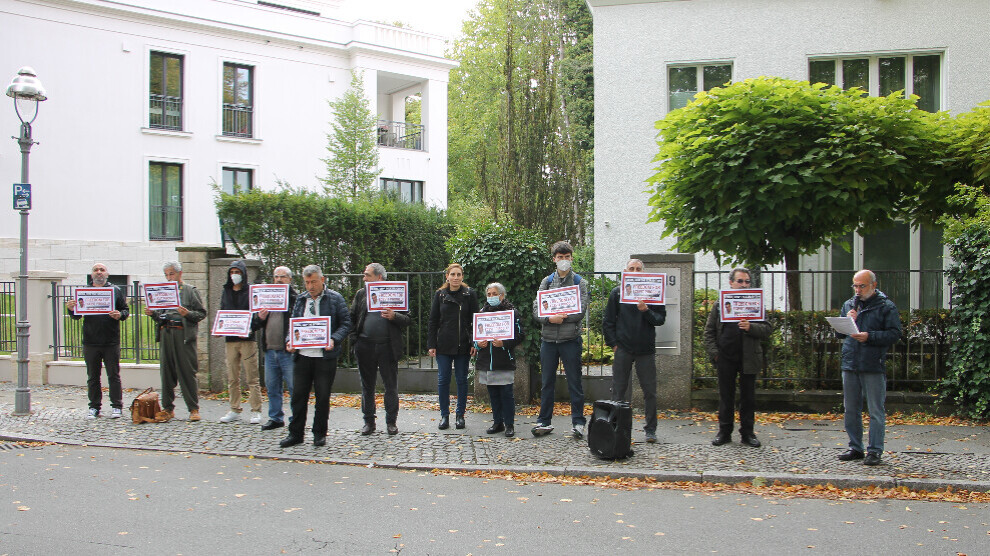 In front of the Serbian embassy in Berlin, activists demanded the release of Ecevit Piroğlu. After fleeing from the Erdoğan regime, the Kurd from Turkey is being held in extradition custody in Serbia, where he went on hunger strike in June. An information dossier on the case was handed to the embassy.

The rally in Berlin was promoted by the HBDH (United Revolutionary Movement of Peoples) alliance and supported by representatives of the Dest-Dan Women's Council, Nav-Berlin and ATIK. In a statement, Ecevit Piroğlu was described as a political activist who has been working for democracy, justice and peace in Turkey since 1992. Due to his political work, he was arrested several times: "After his last imprisonment, he was forced to leave Turkey to escape further political persecution. On 25 June 2021, Piroğlu flew to Serbia and was arrested after landing at Belgrade's Nikola Tesla airport and has been in detention ever since. On 2 June 2022, Piroğlu went on an indefinite hunger strike against his extradition. Months later, he has lost considerable weight and is losing strength and consciousness. He is now held in solitary confinement and his life is in danger."
The statement referred to Turkish President Tayyip Erdoğan's visit to Serbia on 7 September and negotiations on arms sales. "Serbia is apparently ready to sacrifice Piroğlu for its diplomatic and economic interests. According to Serbian law, anyone who has been imprisoned for twelve months should be released from prison, even if the trial has not yet been completed, as such a long trial is considered a deprivation of liberty and excessive detention. We demand that the Serbian government immediately release Ecevit Piroğlu, grant him political asylum and provide him with immediate medical care."
Protests against the extradition of Ecevit Piroğlu have already taken place in front of Serbian representations in several European countries, including in London on Tuesday. The "Initiative for the Freedom of Ecevit Piroğlu" is calling for a rally in Stuttgart on Thursday at noon.
From the Gezi uprising to the fight against ISIS in Rojava to Serbia
Ecevit Piroğlu's path stretches from the Gezi resistance to the fight against ISIS in Rojava to his resistance against his threatened extradition by Serbia to Turkey. Piroğlu has been in extradition custody in Serbia for over a year. On 30 September, the next hearing on his extradition to Turkey will take place, where he faces torture and imprisonment under the Terror Law.
In June, Piroğlu announced through his lawyers that he had started an indefinite hunger strike until his release. The political prisoner declared: "My name is Ecevit Piroğlu. I am an internationalist proletarian revolutionary. I have been imprisoned in Serbia since June 2021. I salute our friends and comrades who have shown internationalist solidarity and protested all over the world to end my physical imprisonment and prevent extradition. I declare that I have joined this resistance by starting a hunger strike. This resistance is against the international attacks on revolutionaries and democrats around the world. As of today, I am on an indefinite hunger strike."
Piroğlu is to be tried for, among other things, his role in the 2013 Gezi uprising. For that alone, he faces 30 years in prison. In addition, his fight against ISIS in Rojava is being prosecuted by the Turkish state for "membership in an armed terrorist organisation".