Demo for Öcalan in Aleppo
Hundreds took to the streets in Aleppo today and condemned the aggravated isolation on Kurdish People's Leader Abdullah Öcalan.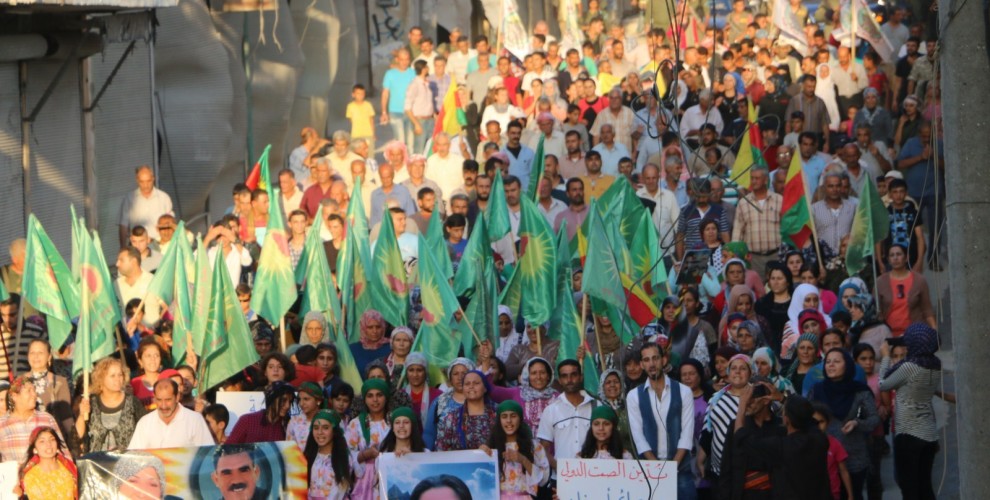 As Kurds across Kurdistan, Europe and the world enhance their demonstrations for the freedom of Kurdish People's Leader Abdullah Öcalan, a demonstration has been organised by the Movement for a Democratic Society (TEV-DEM) in the Sheikh Maqsoud neighbourhood of Aleppo today, which was also joined by hundreds from the eastern and Ashrafiyah neighbourhoods.
The mass started the march from the Martyrs' Square to the east of the neighbourhood, and walked through the main road until the Martyr Xemgîn Rojava Youths Union headquarters, carrying banners of Öcalan, flags of TEV-DEM (Movement for a Democratic Society), PYD (Democratic Union Party), Kongra Star, Rojava Youths Union (YCR), Association of Martyrs' Families, Syrian Democratic Council (MSD) and banners reading "No Life Without The Leader" and "We condemn the silence of the international community".
After a minute of silence at the YCR headquarters, speeches were held by TEV-DEM co-chair of Aleppo, Mihemed Şêxo, member of MSD Cozêf Qiblan, and women's movement Kongreya Star member Xalide Ebdo.
The speakers strongly condemned the aggravated isolation imposed on the Kurdish leader, and stressed how the Turkish state obstructs any contact and communication with him, including meetings with his lawyers.
As the final words, the speakers stated that the success of the revolution in Rojava Kurdistan will frustrate all the plans of the Turkish state.