Attack on HDP office in Adana
An HDP office has been attacked in Turkey for the second time, this time in Adana. Unknown persons tore down the signage on the building and set fire to flags of the party.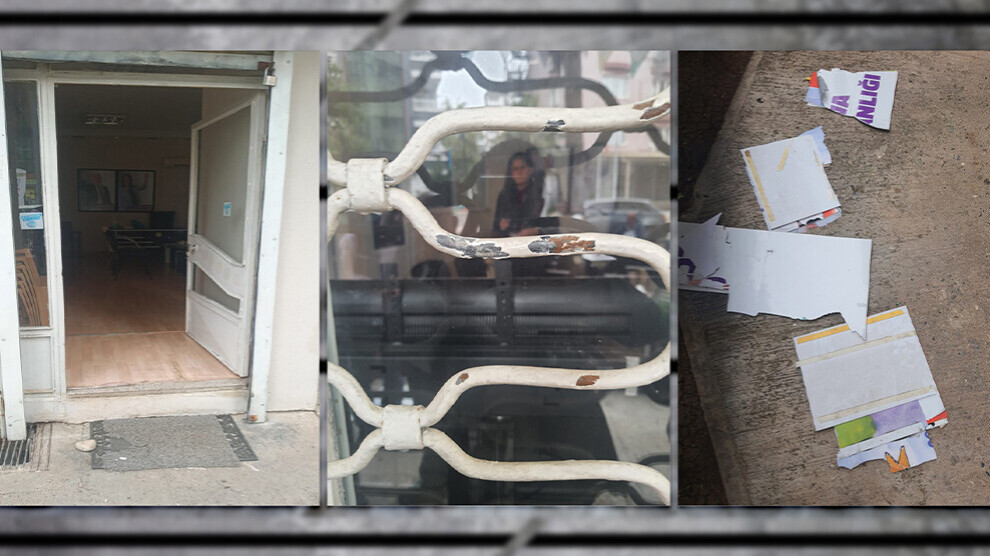 The Çukurova district association of the Peoples' Democratic Party (HDP) in Adana province has been attacked. Unknown perpetrators tore down the signage on the building on Sunday night and broke the board. Flags of the party attached to the entrance were torn down and set on fire. Police are investigating for damage to property.
This is not the first time that the party building of the district association in Çukurova has been attacked. In 2016, there had been a larger attack. At that time, unknown persons had entered the building and vandalized the premises. In addition, a large archive of documents had been destroyed.
Attacks on the HDP
In Turkey, racist and fascist attacks on HDP buildings are frequent. At the end of March, the sign of the Erdemli district association in Mersin was shot up by unknown persons. In mid-February, a Molotov cocktail was thrown at the HDP's Yüreğir district association in Adana, and a few days earlier the car of HDP deputy Ayşe Sürücü was shot at in Urfa. The bullet, apparently fired from a small-caliber weapon at the parked car, struck the rear windshield and landed in the trunk. No one was injured as there were no people in the vehicle at the time of the incident.
HDP employee shot dead
At the end of last year, a district party office in Istanbul was attacked by an armed fascist, injuring two people. In Urfa in November, unknown persons marked the door of a party building with a cross and affixed the emblem of the "Idealist Associations" of the far-right "Grey Wolves" as well as invective slogans. The most momentous attack against the party to date occurred in June 2021, when staff member Deniz Poyraz was shot dead in an attack on party headquarters in Izmir. The state-directed agitation against the HDP is increasingly making the party and its members the target of violence. There are rarely any consequences for the perpetrators.