At least 347 workplace homicides recorded in Turkey in three months
Six child workers and 18 refugee workers were killed in the first quarter of the year. Twenty-five of the killed workers were women and 322 were men.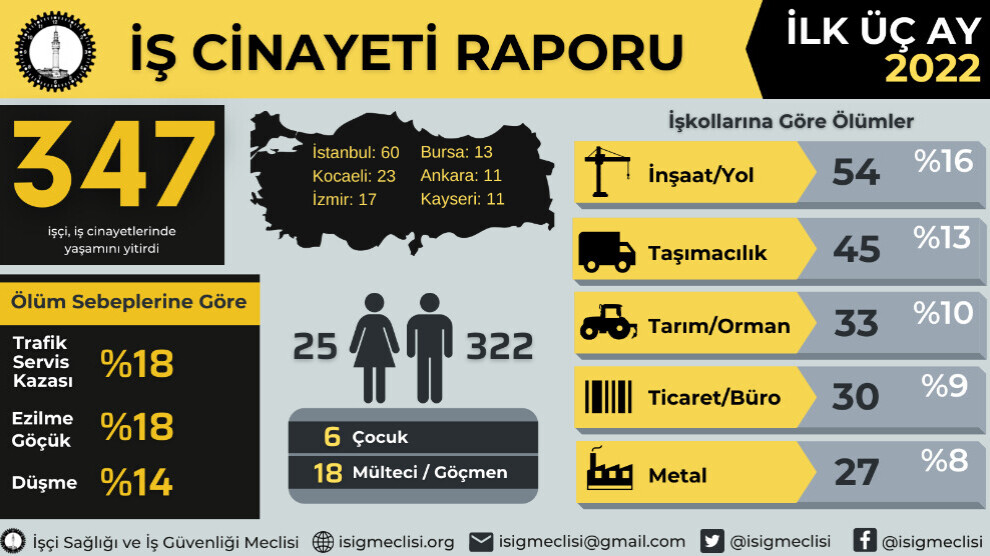 In the first three months of 2022, at least 347 workers were killed in occupational homicides, according to the Health and Safety Labor Watch (İSİG).
120 workers were killed in January, 109 were killed in February and 118 were killed in January.
312 of the killed workers were wage workers (workers or civil servants) and 35 were working on their own behalf (farmers and shopkeepers).
Only 13 (3.74 percent) of the killed workers were union workers and 334 of them were not unionized.
In the three-month period, one child worker younger than 14 and five children/young workers aged between 15 and 17 lost their lives.
Twenty-five of the killed workers were women and 322 were men. Eighteen of them were refugee workers, including eight from Syria, two from Afghanistan, Iran and Uzbekistan each, and one from Indonesia, Pakistan, Russia and Serbia each.
As for the causes of deaths, 63 were traffic/shuttle accidents, 63 were crush/collapse, 48 were falling from a height, 48 were heart attack or brain hemorrhage, 39 were Covid, 21 were suicide, 13 were explosion or fire, 13 were poisoning or suffocating, 11 were violence, 10 were electric shock, 7 were being hit by an object, and 1 was rupture. Ten workers lost their lives because of other reasons.
Sectors and provinces
The distribution of occupational homicides to sectors in three months:
Construction, road: 54
Transportation: 45
Agriculture, forestry: 33 (18 workers and 15 farmers)
Trade, office, education, cinema: 30
Metal: 27
Healthcare and social services: 27
Municipality, general: 26
Accommodation, entertainment: 15
Defense, security: 13
Mining: 12
Textiles, leather: 10
Ship, shipyard, marine, port: 9
Energy: 8
Petrochemistry, rubber: 8
Wood, paper: 5
Food, dessert: 4
Press, journalism: 4
Cement, soil, glass: 2
Banking, finance, insurance: 1
Sector could not be determined: 15
Occupational homicides occurred in 66 of the 81 provinces of Turkey and seven countries abroad.
The cities with the highest number of deaths were İstanbul (60), Kocaeli (23), İzmir (17), Bursa (13), Ankara, Kayseri and Şanlıurfa (11), and Aydın, Denizli and Mersin (10).