"As long as the UN remains silent we will continue to resist"
Kurdish protestors and solidarity groups continued their actions to protest the attack on Afrin in front of the office of United Nations High Commissioner for Human Rights.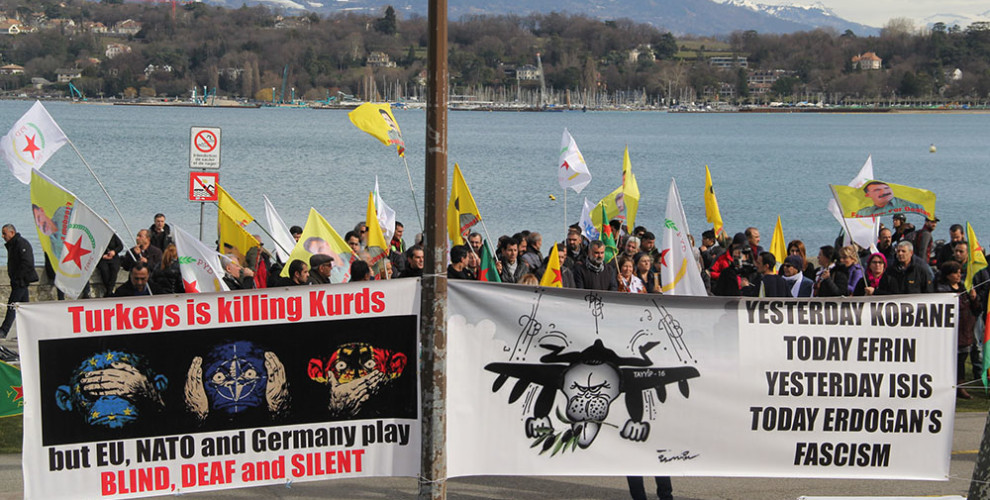 The actions to protest the silence of UN and international powers over Turkish attacks on Afrin continued for the third day in Swiss city of Geneva. The demonstrators moved their protest to the UNCHR building.
The protestors urged UN's Human Rights Commissioner Zeir Ra'ad el Hussein to take action against the massacres committed by the Turkish state in Afrin.
Holding banners that read "Turkey is killing Kurds, UN remains silent", "Yesterday Kobane today Afrin", "Yesterday ISIS today Turkish state", "Turkey kills; Europe, NATO and UN are silent", the protestors chanted slogans "Murderer Erdogan", "Invader Turkish state".
Protestors read a statement that accused UN of serving the Turkish attempt to invade Afrin by remaining silent.
"Turkey continues its attacks despite the resolution by UN Security Council for a 30-day ceasefire in Syria. UN and international powers remain silent despite that. These forces know that with their attitude they became accomplices of the massacres in Afrin. We urge you to stop partnership with the perpetrators of the massacre. Don't remain silent over the massacre of Kurds because of your interests."