Ankara police attack HDP MPs marching against political coup
The police attacked a demonstration by HDP deputies against the revocation of three members of parliament's mandate.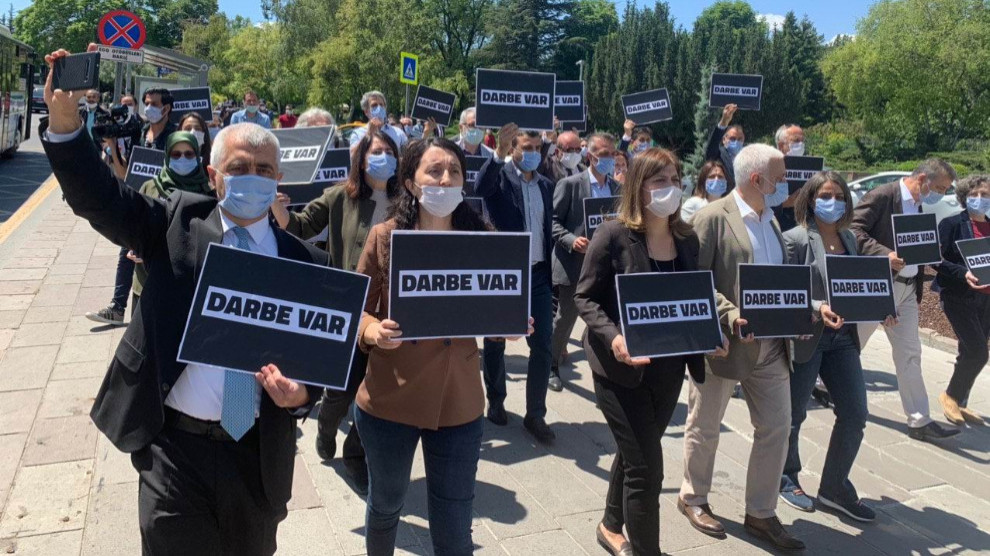 On Thursday, the mandate of the Peoples' Democratic Party (HDP) deputies Leyla Güven, Musa Farişoğulları and CHP deputy Enis Berberoğlu was revoked. The MPs were then detained in the evening hours and imprisoned at night.
The HDP members protested against the repression with a statement and marched together to the Güven Park in central Ankara today noon. They carried signs saying "This is a coup" and chanted "Putschist AKP". The police attacked the rally, tearing the jacket of the MP Rıdvan Turan, and breaking the glasses of MP Kemal Bülbül.
HDP deputy Ömer Öcalan described the police attack as provocation. HDP MP Murat Çepni said: "The police attacked our colleagues. They took to the streets against the coup. Now these thugs are trying to attack them."
#SiyaseteDarbeVar

Halk iradesine Meclis'te de sokakta da tahammül edemiyorlar. Bu saldırılar ancak ve ancak bizim mücadele azmimizi ve kararlılığımızı biler. Bizler kazanmaya devam edeceğiz, iktidar kaybetmeye devam edecek! pic.twitter.com/ig4CR4bL8q

— HDP (@HDPgenelmerkezi) June 5, 2020