Afrin Platform meets with German President
A protest demonstration was held during German President's visit to a UNESCO affiliated school and a store. During the protest, Afrin Platform met with the President.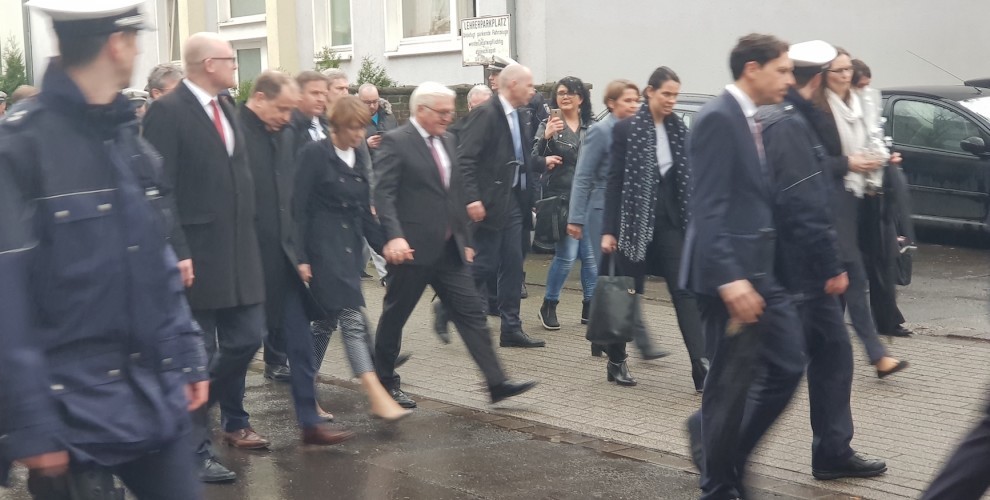 A group of demonstrators chanted "Stop the massacre in Afrin", "Murderer Erdoğan" and "German tanks out of Kurdistan" as German President Frank-Walter Steinmeier visited the Turkish Wedding Dress store in Duisburg.
As the President left the store, a Kurdish demonstrator asked him "Mr. Steinmeier, how much longer will you wait in order for the massacres in Afrin to stop?"
As Steinmeier left the scene immediately upon this question, another demonstrator shouted "How many more people need to die for you to stand against this war? Our children are massacred with your tanks."
Police therewith harshly intervened and detained the demonstrator.
While the German President continued his visit to a school under UNESCO, a delegation on behalf of Duisburg Platform for Afrin met with him. Hayri Irmak in the name of the delegation submitted a file to the President during the meeting.
Steinmeier said he would examine the file himself and forward it to related institutions.
Afterwards, the delegation held a 10-minute meeting with Deputy President Dr. Schmolke Oliver, and highlighted the situation in Afrin and problems of the Kurds living in Germany.
In the meantime, German police blockaded the Duisburg Kurdish Society Center before the President's visit in the morning.