Activists to hold actions across Cyprus to expose war crimes committed by Turkish state
The first of the series of actions across Cyprus to expose the war crimes committed by the Turkish state against the Kurdish people was launched with the tent action opened in Limassol.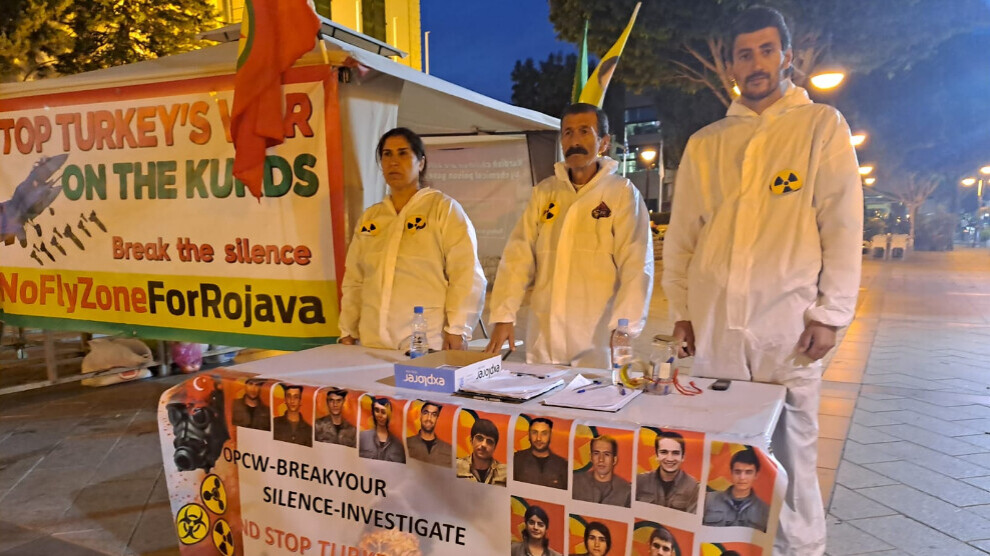 Kurds living in Limassol opened a tent in front of the municipality against the genocidal attacks carried out by the AKP-MHP army with chemical weapons in Medya Defense Areas.
Leaflets in Greek and English were distributed at the site of the tent. The action was promoted by Tevgera Ciwanên Şoreşger, Women's Initiative and the Kurdish People's Assembly of Cyprus.
Activists at the stand explained to passers-by about the war crimes committed by the invading Turkish state with banned weapons in its war against the Kurds.
Politician Kamil Akalın, one of those who carried out the action, said that they will be on the streets every day with the actions they plan throughout Cyprus in order to expose the invading Turkish Republic's genocidal attacks and chemical weapons attacks.
Akalın gave the following information regarding the action planning: "The tent will stay in Limassol for 3 days, until Friday, then will move in Larnaca for two days on the weekend and finally in Nicosia for three days, in front of the Cyprus Parliament Building, the United Nations and the American Consulate. We will open stands between 6pm in the evening, and finally, on Friday, 25 November, we will hold a mass march towards the Lidra Palace Border Gate in Nicosia. In this sense, we invite all our people living in Cyprus, our Cypriot friends and everyone fighting for freedom to our march."