14 detained after the HDP congress in Ankara
After the successful HDP congress in Ankara, 14 people have been detained so far for alleged "terror propaganda".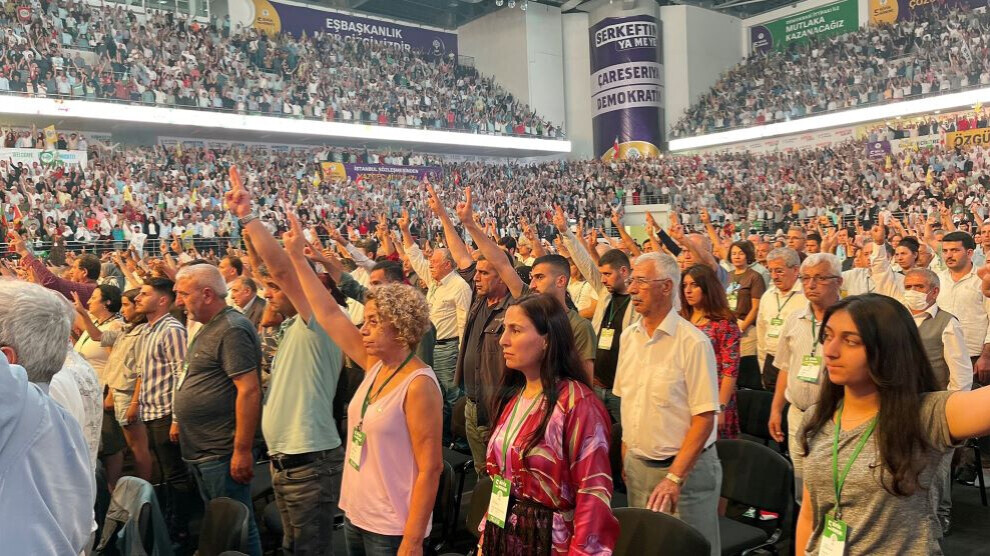 In the course of the investigation initiated by the Ankara Chief Public Prosecutor's Office after the Peoples' Democratic Party (HDP) congress on Sunday, 14 people have so far been taken into custody in various cities. Immediately after the end of the party congress, several people were taken from the buses on which they were planning to travel home. Others were later detained at their homes.
While nine people were taken into custody at the Ankara police station, four people were detained in Batman and one person in Izmir. They are to be transferred to Ankara.
The people concerned are accused of "terror propaganda" because of the slogans they shouted during the party conference. The allegedly banned slogans are believed to include "Bijî Serok Apo". This slogan, which translates as "Long live chairman Apo", was shouted particularly often in the chorus at the HDP party conference in Ankara on Sunday. Apo refers to Abdullah Öcalan, mastermind of the Kurdish liberation movement, who has been a political hostage on the prison island of Imrali since 1999.
At its party congress, the HDP reiterated its demand for the abolition of the isolation regime on Imrali and negotiations on a solution to the Kurdish question with Öcalan as an interlocutor - and received the approval of its members in the form of "Bijî Serok Apo". Even though the slogan itself is not considered a criminal offence according to the Turkish Constitutional Court, it is assessed by police and prosecutors as promotional support for the cause of the Kurdistan Workers' Party (PKK). People who use it are not infrequently charged under Turkey's anti-terror legislation and worn down with long trials. "Terror propaganda" is punishable by up to five years in prison in Turkey.
Tens of thousands of people attended the HDP congress in Ankara on Sunday, including many guests from abroad. The congress is considered a great success in view of the prevailing repression in Turkey.