HPG: Turkey's attack on Gare comes from South Kurdistan
The HPG announced that the Turkish state launched an air-backed invasion attack on the Gare area and that clashes are continuing. "Cobra and Sikorsky helicopters came to the area from the South, not from North Kurdistan," the HPG said.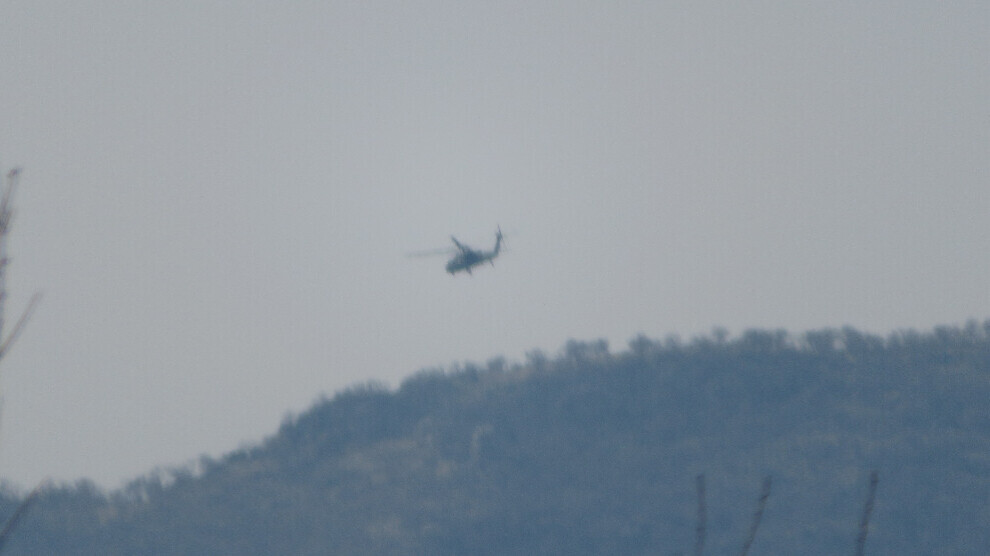 The HPG issued a written statement regarding the invasion attacks launched by Turkey against the Gare area in the early hours of the morning.
The statement included the following details:
Heavy air bombing of Gare
"The occupying Turkish army launched a comprehensive operation against the Gare region at 3 am on 10 February. Turkish warplanes bombed the villages of Gundê Guzê, Meyrokê, Siyanê, Çemşerîtkê, Yekmalê and Kanîsarkê and the areas of Deşta Kafya and Deşta Nehlê from 3 am till 6 am.
The surroundings of the village of Çemrobotkî were bombed twice at 4.30 am and once in the morning with warplanes.
Simultaneously, the surroundings of the villages of Yekmalê and Siyanê were bombed with Cobra helicopters.
Soldiers airdropped near Siyanê and clashes
The invaders airdropped soldiers near the village of Siyanê after bombing the area with fighter jets and Cobra helicopters. Clashes erupted between our forces and the invaders here, and are still going on. The Cobra and Sikorsky helicopters belonging to the invaders were targeted by our forces and, as a result, moved away from the area.
The helicopters used in this operation launched to invade the region of Gare, came to the area from the Southern line, not from North Kurdistan."
Air attacks
Providing information about the air strikes against other areas, the HPG added: "The area of Aris Faris in the region of Avaşîn was bombed with warplanes on 30 January at 12.10 pm.
At 12 pm on 30 January, the areas of Small Cilo and Karker in the region of Zap were bombed.
On 2 February, between 10.30 am and 12.30 pm, the vicinity of the village of Şînê in the Mamentiyê mountain in the region of Avaşîn was bombed. As a result of this bombardment, the vineyards and gardens belonging to the villagers were damaged."
Actions from Şehit Delal Air Defense Forces on Mêrganîş Hill
The HPG also provided the following information regarding the action of the Air Defense Forces: "Our Martyr Delal Air Defense Forces bombed the invaders positioned on the Mêrganîş hill in the Çelê (Çukurca) district of Colemerg (Hakkari) at 7.30 am on 9 February, within the framework of the "Dem Dema Azadiyê Ye" initiative [Time for Freedom]. The determined targets were hit and the action was carried out successfully."