Protest at Sêmalka: "Barzani commits treason against the Kurdish people"
Thousands of people have once again protested at the Sêmalka border crossing in northern Syria against the collaboration of the KDP party, dominated by the Barzani clan, with the Turkish state.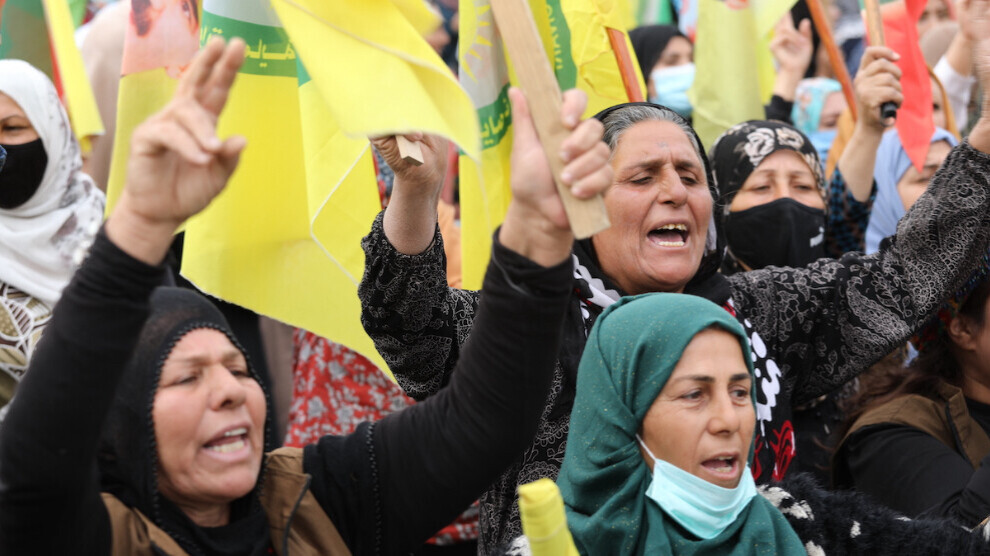 For more than a week, relatives of martyrs have been protesting at the Sêmalka border crossing in Rojava against South Kurdistan's ruling party KDP. The protests were triggered by the death of five guerrilla fighters in a KDP ambush. The relatives are demanding the return of the bodies of Tolhildan Raman and Serdem Cûdî. The guerrilla commander and the fighter were from Rojava and belonged to a seven-member HPG/YJA-Star unit that was ambushed by the KDP in Xelîfan near Hewlêr on the night of August 28-29. Five of the group were killed, and one HPG member was taken prisoner with injuries. HPG guerrilla Haki Zîlan survived alone.
At the border crossing to southern Kurdistan, the Assembly of Martyrs' Families from the Cizîrê region has erected a protest tent, which is visited daily by new groups. Today, masses of people once again streamed to the border and demanded that the KDP not betray the Kurdish people and end its cooperation with the Turkish state.
On behalf of the Social Defense Forces HPC, Dayika Hogir delivered a speech in which she condemned the attitude of the Barzani clan and the government of the Kurdistan Autonomous Region in Iraq and addressed the powers involved in the international conspiracy against Abdullah Öcalan and the liberation movement: "We inform the whole world that we will not be stopped and will continue to be active everywhere. If Rêber Apo [Leader Abdullah Öcalan] is harmed even one hair, the whole world will burn. He is not only fighting for the Kurdish people, but for all oppressed people worldwide. He stands for freedom worldwide and we are his disciples and militants. Our will cannot be broken."
Hogir called on the KDP to change its stance and not harm the Kurdish people. She continued: "We appeal from here to the people of Başûrê Kurdistan [Southern Kurdistan]: We are not against you, but against your government. It has recruited people from here as mercenaries with the money of the Turkish state and is sending them to fight against their Kurdish brothers and sisters. Brothers and sisters are supposed to kill each other. The Turkish state and the international powers have not been able to stop the PKK for forty years, because it follows the line of resistance. The Barzani family and the South Kurdistan government, on the other hand, follow the line of betrayal."