People in Shengal march to protest isolation in Imrali
A march was organised in Shengal to protest the isolation regime in Imrali and to salute resistance in the prisons.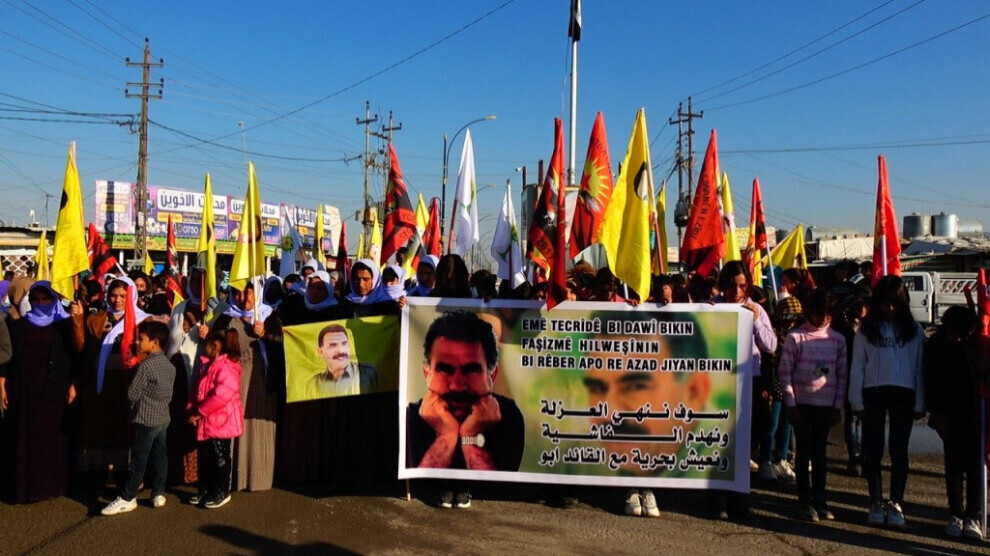 Hundreds of people gathered in Sinûne, Shengal, and marched to protest the aggravated isolation imposed on Kurdish people's leader Abdullah Öcalan. During the march, the hunger strike resistance carried out by the prisoners was saluted.
Hundreds of people gathered in front of the Sinûne People's Assembly joining the action promoted by Tevgera Azadiya Jinên Êzidî (TAJÊ) and Yekîtiya Jinên Ciwan ên Êzidî (YJCÊ) and then marched chanting slogans such as 'Bê Serok jiyan nabe', 'Bijî Serok Apo'.
The march turned into a rally and speakers underlined how "over the years, the occupying, fascist Turkish state has tried to distance us from Leader Abdullah Öcalan. The conditions of isolation imposed to Imralı are getting worse. We cannot get information about Leader Apo. Neither family nor lawyers are allowed to go to Imralı prison. The current system fears Leader Apo's freedom paradigm and philosophy."
The speakers added: "The sovereign powers know well that a society that constantly organizes itself with free thought has a will to stand up. Today, if the Yazidi society has a free status and identity, it is thanks to Leader Abdullah Öcalan. They can try to prevent the development of a self-governing democratic system in Shengal but they cannot prevent our struggle. The Yazidi people can stand on their own feet."