Newroz in Cizre: Resistance message from tens of thousands
"Cizre has been the honor of the people of Kurdistan for years. Today we are all Leyla Güven."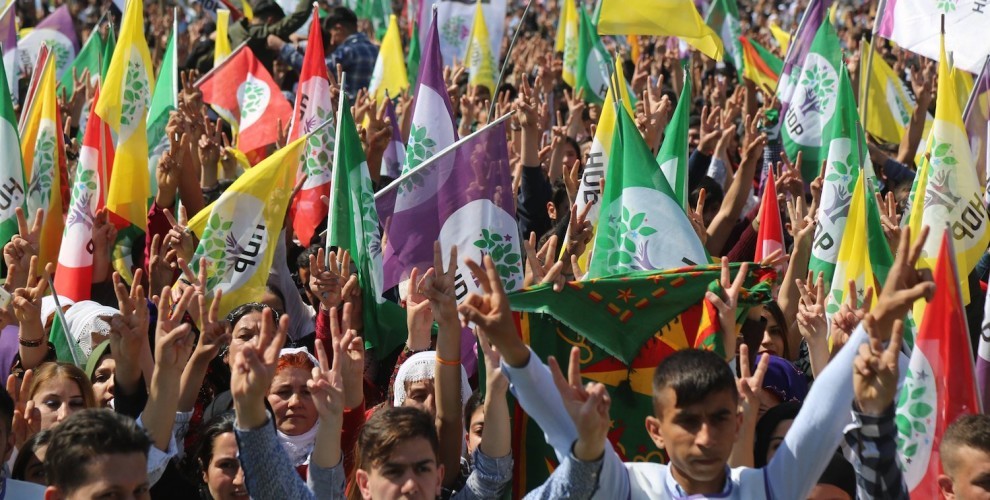 Despite the military and police blockade in Cizre, thousands of people joined the Newroz celebration since the early hours of the morning.
The celebration took place in the borough of Konak. People chanted slogans and carried photos of the hunger strikers demanding the end of isolation against Abdullah Ocalan.
After a minute's silence for the martyrs of freedom, Mehmet Tunç and Asya Yüksel who were murdered by the AKP regime during the curfews, were commemorated.
HDP Şırnak deputy Faysal Sarıyıldız, who has been forced to live in exile since the curfew, sent a message to the people of Cizre.
HDP former Şırnak MP Ferhat Encü, who is in prison also sent a message.
The celebration continued with Koma Dengbêjên Botanê music band taking the stage.
HDP Cizre Municipality co-mayor candidates Berivan Kutlu and Mehmet Zırığ greeted the people. Kutlu said: "Today they are attacking the language and culture of peoples. They will never win because peoples have never bowed to their persecution."
HDP Şırnak MP Nuran İmir said: "Cizre has been the honor of the people of Kurdistan for years. Today we are all Leyla Güven. Today, our friends are on a hunger strike of resistance. Turkey and Kurdistan are under isolation and we are resisting with our bodies against it. We salute and commend Zülküf Gezen, his family and all the hunger strikers' families. We're going to free our land from this fascism"