Nasir Yagiz takes a turn for the worse on day 114 of fast
"There should be more pressure on the Turkish state. The isolation imposed upon Leader Ocalan should end at once."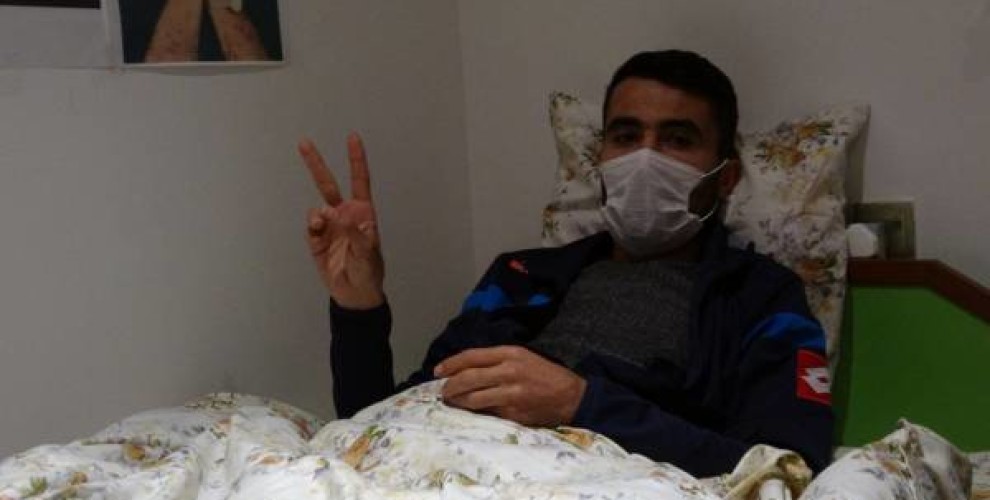 Hunger strikes against the isolation continue in Hewler and Maxmur. Nasir Yagiz's health is taking a turn for the worse.
HEWLER
The hunger strike launched in Hewler against the isolation imposed upon Kurdish Peoples' Leader Abdullah Ocalan is on day 114. The 57th group has taken over the resistance today.
HDP South Kurdistan Representation Co-chair Abid Ike said, "March is the month of resistance for the Kurdish people. Resistance against the isolation continues in various places with great resolve. The people of Bashur (South Kurdistan) should also attend the protests more and show more support. We must become one voice against tyrannical policies against Kurds and increase our struggle."
Ike pointed out that Leyla Guven and Nasir Yagiz's health gets worse every day: "There should be more pressure on the Turkish state. The isolation imposed upon Leader Ocalan should end at once."
HDP Member Nasir Yagiz's health is still critical as he continues his hunger strike on day 14. Yagiz continues his protest with determination.
VISITORS: WE SUPPORT HIS DEMAND
A group of academics, writers, artists, journalists and political party representatives visited Nasir Yagiz who has been on a hunger strike in Hewler against the isolation for 114 days.
The group visiting Yagiz were academics Hevjin Mela Emin and Kameran Mentik, journalists Peyman Ehmed and Tevgera Azadi member Berivan Mihemed, activist Tanih Abdullah, writer and journalist Hesen Cudi, teacher Mihemed Bekir, Democratic Popular Front Member Adil Osman, activist Osman Mihemed and artist Casimi Saz.
Teacher Mihemed Bekir gave a speech in the name of the group and said: "We support the rights and demands of the hunger strikers. The hunger strikes are on the global agenda now but they should be supported even more."
MAXMUR
The hunger strike launched in Martyr Rustem Cudi (Maxmur) Refugee Camp against the isolation is on day 89, and Ishtar Assembly Member Fadile Tok's hunger strike is on day 54.
A committee of Kongre Star and PYD South Kurdistan Representation visited Fadile Tok, who has been on a hunger strike in Maxmur for 54 days, and other hunger strikers.
Kongra Star Member Delya Henan spoke after the visit and said: "As we are going through a critical period, the fascist Turkish state deepens the isolation against Leader Apo to hinder the Kurdish people. As the Kurdish people, we don't accept this isolation. Hunger strike resistances continue in four parts of Kurdistan, in Europe and throughout the world. Leyla Guven, Nasir Yagiz and Fadile Tok and hundreds of others are resisting against the isolation. We salute all hunger strikers."
Bese Budak spoke in the name of the 30th group of the hunger strike and said: "We condemn the isolation imposed upon Leader Apo. We will never accept the isolation. Protests were started in many places against the isolation against Leader Apo. To break the isolation, the resistance needs to spread further."