Kurdish delegation visits the Czech Embassy in Hewlêr
A delegation visited the Czech representation in the Kurdish city of Hewlêr (Erbil). The meeting called for the release of Saleh Muslim.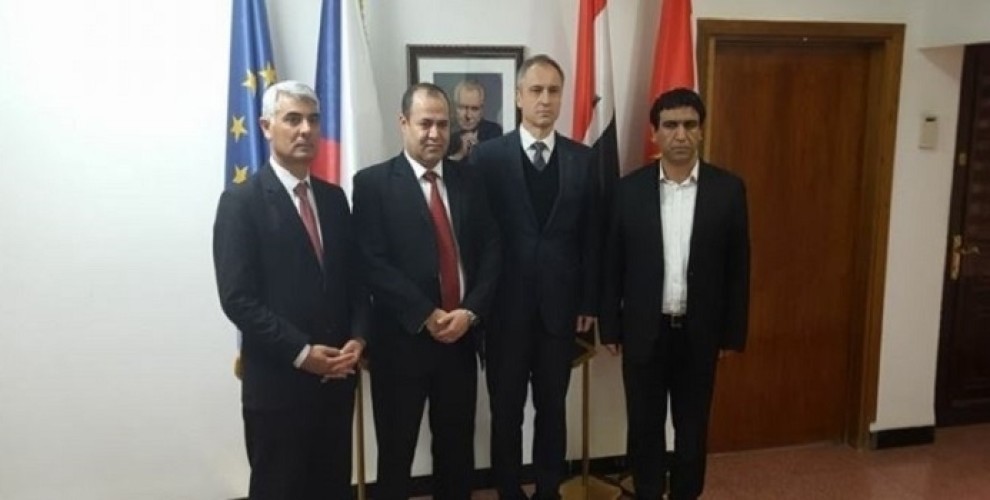 A Kurdish delegation consisting of PYD representative in southern Kurdistan, Silêman Ereb, and Kurdistan Region parliamentarians Şêrko Heme Emîn and Îzet Sabir visited the Czech Embassy in Hewlêr (Erbil), and called for the release of Saleh Muslim, the foreign relations officer of the Movement for a Democratic Society (TEV-DEM).
Czech Ambassador: Surprised by arrest
On behalf of the Czech embassy, ​​it was stated that they were surprised by the arrest of Saleh Muslim and that the delegation's request will be forwarded to the Czech government.
Sabir: An illegal demand
At a following press conference, a member of the Kurdish regional parliament, İzet Sabir, emphasized that the Turkish state's request for the extradition of Moslem to Turkey was not legitimate as he is a citizen of Syria but not Turkey and is in Czechia officially.
Ereb: Turkish state representative of terror, Muslim representative of peace
Silêman Ereb, representative of the PYD in South Kurdistan, said the following about the arrest of Saleh Muslim: "Saleh Muslim is a representative of peace. He has a great influence in the fight against terrorism in Rojava / northern Syria. Muslim himself is the father of a fallen fighter. We have informed the Czech representation that the Turkish government supports terrorism while PYD is fighting against terror in Rojava. Therefore, Saleh Muslim should be released as soon as possible. "
Emîn: Report on situation Efrîn handed over
Regional parliamentarian Şêrko Heme Emîn said that he had given the Czech embassy a report on the current situation in Afrin and the attacks by the Turkish state on the canton.
Gorran Movement: Cabinet must take action
The Gorran Movement in the Kurdistan Region Parliament Group presented a petition to the speaker's office regarding the arrest of Salih Muslim at the request of Turkey, stating that; "The Cabinet of Kurdistan Region should summon the Czech Consul and ask why Saleh Moslem has been detained."