Iraqi parliament members visit Makhmur Camp
A delegation from Gorran Movement, PUK, Yekgirtû and Komela Îslamî parties in the Iraqi Parliament visited the Makhmur Camp.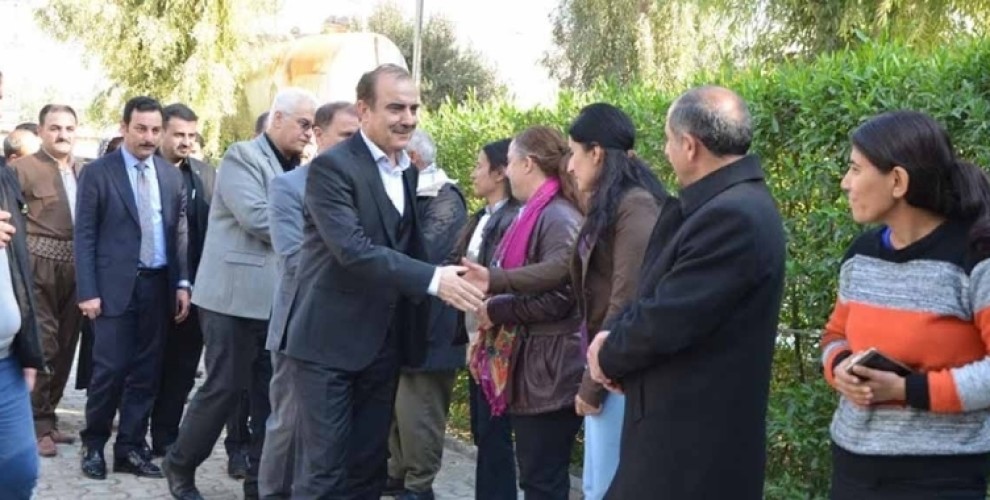 A delegation from Gorran (Change) Movement, Patriotic Movement of Kurdistan (PUK) Kurdistan Islamic Party Partisi (Yekgirtûya Îslamî ya Kurdistanê) and Kurdistan Islamic Society (Komela Îslamî) parties in the Iraqi Parliament paid a visit to Martyr Rûstem Cûdî Refugee Camp in Makhmur, Southern Kurdistan to learn about the problems of camp residents.
The delegation was received by Co-mayors of Makhmur Municipality, Co-chairs of Foreign Affairs Committee, Ishtar Assembly and Democratic People's Assembly.
Gorran Movement parliamentarian Kawa Mihemed spoke to the press about the purpose of their visit and stated that members of the 4 Kurdish parties in Iraqi Parliament wanted to obtain information about the needs and other problems of the residents, such as electricity, water and transportation.
Kawa Mihemed said: "We thank the people of Makhmur Camp for leading a successful communal life based on organization and responsibility. We listened to the needs and problems of camp residents. We will take all necessary steps in order that their problems be solved and their basic needs be met in the soonest time possible."
Arêz Abdullah from PUK stated that; "People of Martyr Rûstem Cûdî Refugee Camp inspired the people of the region by mounting great resistance in the battle against ISIS. It is our humane and national duty to be in solidarity with the camp residents and provide them with the help they need."