HPG: Turkish occupiers were repelled once again in Werxelê
The guerrillas continue their resistance against the Turkish invasion in Avaşîn. An advance by the occupation forces in Werxelê was halted despite blasts and bombardments in the course of the fighting.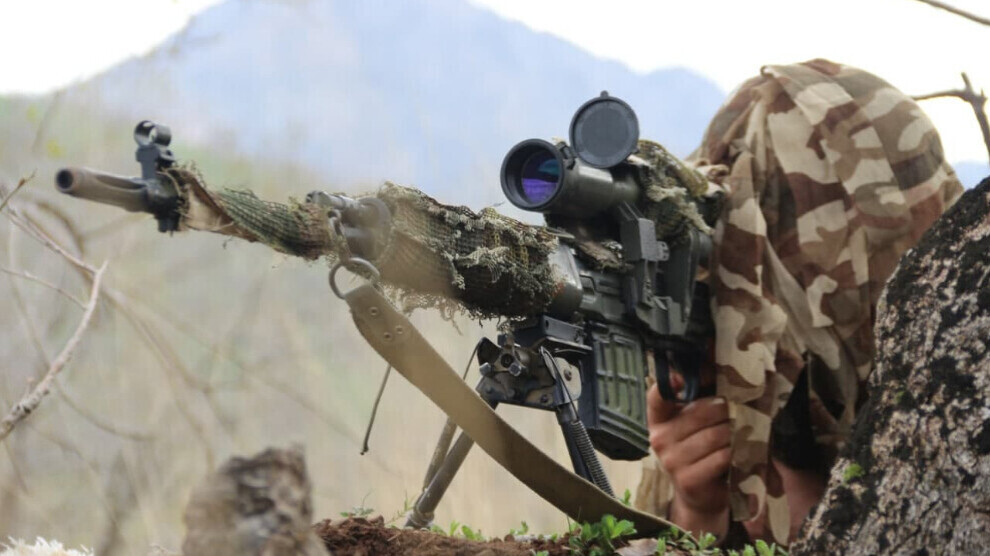 In a press release on the war in Kurdistan, the press office of the People's Defense Forces (HPG) reported heavy fighting in the guerrilla area of Werxelê in Avaşîn. According to the statement, fighting broke out on Thursday evening in the course of an advance by the Turkish army. Despite a total of seven attacks with heavy weapons as well as blasts, the guerrillas succeeded once again in stopping the advance of the occupying forces.
Regarding further attacks by the Turkish army the previous day, the HPG said that the Kafya area in Gare was bombed by fighter jets over a period of several hours. In Metîna, helicopter movements have been recorded along the Qaşûra line between 7 p.m. and 10 p.m. At the same time, Turkish combat helicopters bombed the area around the villages of Kêste, Hirorê, Êdinê, Dêşîşê and Serarû in the district of Kanî Masî as well as the Koordine area.
In Avaşîn, aerial activity was recorded over Mervanos, Tabûra Ereba and Girê Silêman late in the evening. The areas of Girê Qartal, Stûnê, Geliyê Basya, Dola Bizina and Werxelê was attacked by attack helicopters. In the Zap region, Kuro Jahro was attacked by aircraft at noon.
Attacks by Iranian regime forces
HPG also informed about attacks by the Iranian regime in Southern Kurdistan. According to the report, between September 8 and 15, several air and ground attacks were carried out in the Berbizina, Goşînê, Girê Şehîd Laşer and Kelaşîn regions. In addition, HPG denied claims that the guerrillas were responsible for the deaths of two members of the contra militia "Roj-Peshmerga". The two men died in an explosion in Dinartê, south of Barzan, on Wednesday, said the statement and added, "KDP authorities immediately blamed our movement for this incident. We reject the accusations against us."