HPG: 17 more soldiers killed in guerrilla resistance to Turkish invasion
Guerrilla resistance to the Turkish invasion of the Medya Defense Zones continues. HPG reported that at least 17 Turkish soldiers have been killed in the recent actions.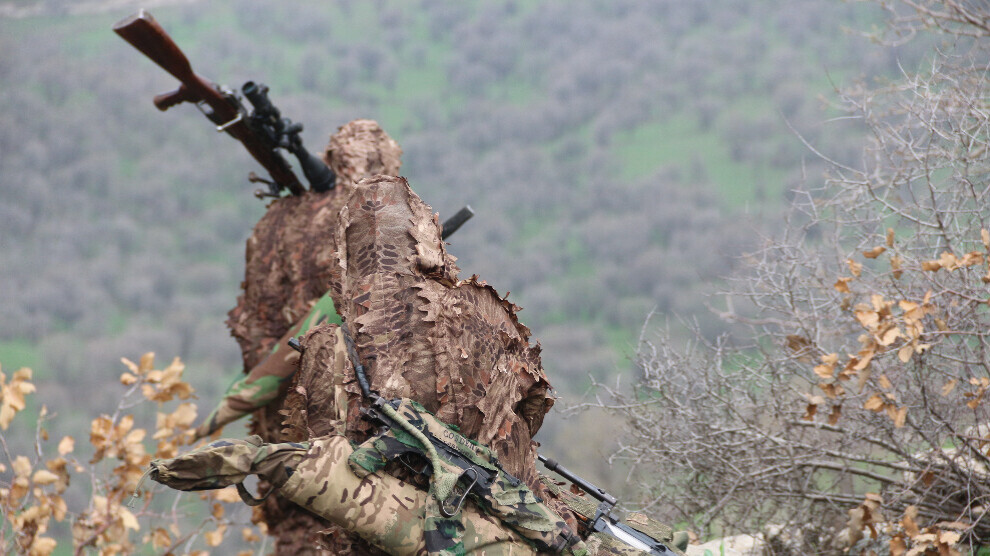 The press office of the People's Defense Forces (HPG) has published a statement on the latest from the Turkish occupation operation in the Medya Defense Zones. Accordingly, at least 17 more soldiers of the Turkish army were killed between Friday and Saturday in the course of the "resistance offensives" declared by the guerrillas.
Revolutionary offensive "Falcons of the Zagros"
Regarding actions in the Zap region, the statement said that last Friday a soldier was killed in an assault on Hill Martyr Mervan. On May Day, a Turkish operation unit was targeted at the Şehîd Munzur hill. "In the successful action, four occupants were punished, the position was completely destroyed. Afterwards, the occupiers retrieved their casualties out of the combat area by helicopters."
Actions in Avashin
In Avashin, the Turkish Air Force bombed a guerrilla position on Hill Mamreşo early yesterday morning, after which Turkish ground forces attempted to advance. While the HPG and YJA-Star guerrillas responded with a counterattack, there is no confirmed information on the outcome of the action.
In the morning, the guerrillas proceeded with heavy weapons against Turkish soldiers at Şehîd Serdar hill. "All the targets targeted were effectively hit. As a result, the occupiers bombed the battle area." Later that evening, guerrillas infiltrated a military position at the same hill. The position was destroyed and five soldiers were killed during the assault.
Today, Sunday, guerrillas targeted two Turkish army positions at the Şehîd Dilgeş hill from close range. According to available information, three soldiers were killed and another was injured.
Revolutionary offensive "Cenga Xabûr"
The guerrillas continued with their actions also in the region of Heftanin where -according to the HPG report- two separate actions were carried out by guerrillas yesterday (Saturday). First, in the Xantur area, a troop leader was shot dead by guerrilla snipers on Hill Suikast. Three other soldiers were killed in an assault on Turkish soldiers on the Qesrokê hill in the Partizan area. In addition, a position, two surveillance cameras and a radar system were destroyed.
Air strikes on Medya Defense Zones
The Turkish Air Force continues to bomb Medya Defense Zones extensively, said the HPG statement. On April 29, fighter jets attacked the Kolît area in Xakurke, and a day later they attacked the Derarê region in Metina. Yesterday, the HPG recorded several airstrikes at the nearby Zendura hill as well as in Kesta and again in Derarê. Air strikes were also reported again the previous day from Aris-Faris in the Zap region and from Sinînê near Xakurke. Fighter jets again bombed Hill Zendura early on Sunday morning.