Delegation from Shengal meets with Iraqi officials, conveys their demand for decentralization
Following the march attended by thousands of people in Shengal, a delegation of the Shengal Democratic Autonomous Council and notables met with Iraqi officials on Thursday and conveyed their demand for decentralization.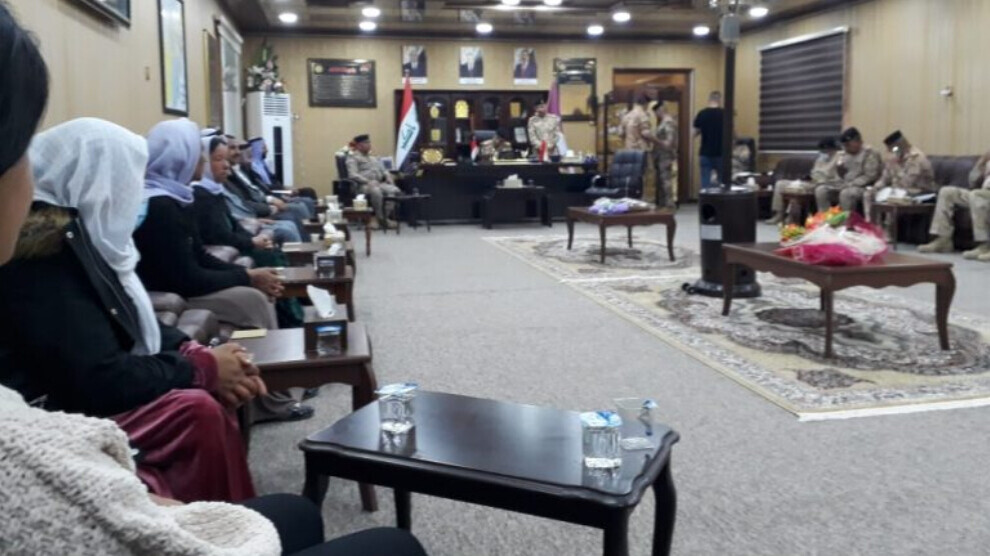 From the morning hours, thousands of people from the surrounding villages came to Shengal and joined the march in the city center. Police intervened at many points. However, the march could not be prevented. Notables of the region, opinion leaders, politicians and administrators attended the march.
During the march, an agreement on Shengal introduced by Baghdad-Hewlêr-Ankara was protested. The Iraqi government had given the Shengal Asayish (public security) 24 hours to leave the city, but the Autonomous Administration rejected this and decided to stage a march in protest.
During the march, which started earlier today, slogans such as "Long live the Shengal resistance" and "Long live the mothers' resistance" were chanted. A statement was made as the crowd with the flags of the Êzîdxan Asayish (Yazidi security forces) approached the point where the Iraqi forces were positioned.
Shengal Democratic Autonomous Assembly deputy co-president Heso Birahim said that Shengal would not be sacrificed once again for political schemes.
Birahim said, "Now we have power, we have our institutions, assembly and defense. Here are the representatives and institutions of all the peoples in Shengal. They are not just parties to a political party. We are now here for the Êzîdxan Asayish. If the Êzîdxan Asayish had existed in 2014, that massacre (the genocidal onslaught of ISIS gangs) would not have been committed, our mothers and sisters would not have been murdered."
Noting that the people of Shengal want decentralization, Birahim said, "We are not against Iraqi laws. We also want our rights within the framework of the laws of the Iraqi state. We have the right to decentralization according to the Iraqi constitution. In addition, genocide threats also give us the right to autonomy."
After this statement, a delegation consisting of the Shengal Assembly, Yazidi Women's Freedom Movement (TAJÊ) and Yazidi Freedom and Democracy Party (PADÊ) members and opinion leaders met with Iraqi military officials. 
The meeting took place at the Iraqi Military Headquarters in Shengal. According to RojNews, the delegation from Shengal highlighted the will of their land and vowed to reclaim it.
The delegation submitted their demand for decentralization in writing to the Iraqi military officials who will reportedly convey the issue to Baghdad.