Corpses kidnapped from Garzan Cemetery not given back for 3 years
Demanding to take back the corpses that were removed from the Garzan Cemetery and buried on a sidewalk in Kilyos Cemetery, families said, "The government is responsible for this trauma of families and society with regard to the Garzan Cemetery."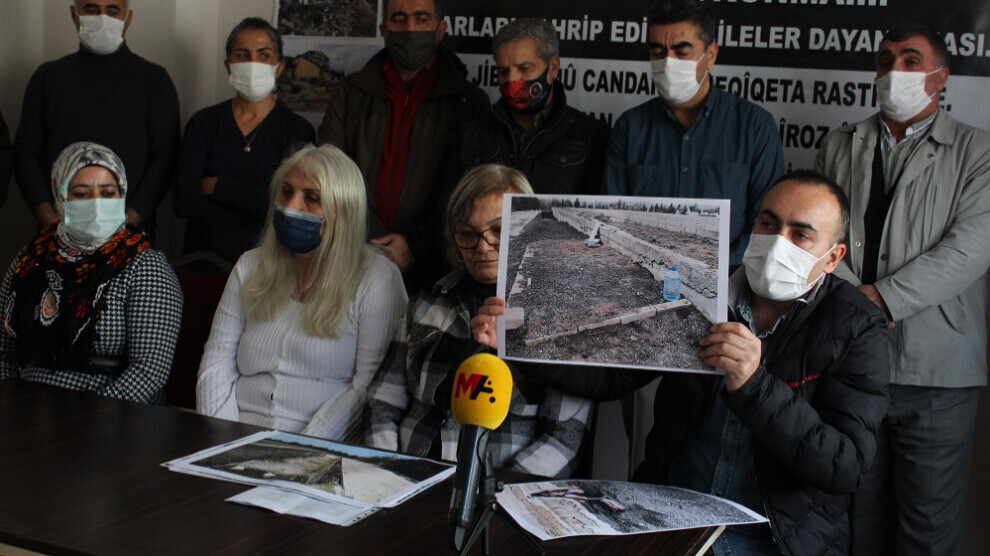 Three years have passed since the Garzan Cemetery in the Yukarıölek (Oleka Jor) neighborhood of Bitlis province was demolished and 282 guerrilla corpses in the cemetery were taken to Istanbul and buried on sidewalks in Kilyos Cemetery. The bodies were not given to the families despite all their efforts. The Anatolian Association for Solidarity with Families Who Lost Their Relatives (ANYAKAY-DER) held a press conference on the third anniversary of non-delivery of the corpses to their families.
Garzan Families and members of the Marmara Association for Solidarity with Prisoner and Convict Families (MATUHAYDER) attended the press conference held in association's building in Fatih, İstanbul. A banner was hung in Turkish and Kurdish on the wall saying "Death is a fact for all living things. The grave is sacred and the right of every dying person. Don't touch my grave."
CORPSES ABDUCTED
ANYAKAY-DER co-chair Sultan Karasu recalled that the Garzan cemetery was demolished in a barbarian way 3 years ago, noting, "282 corpses were taken to Istanbul on December 16, 2017, and kept in forensic medicine for months."
'OUR FAITH IS DENIED'
Saying that the demolition of the Garzan Cemetery is within the knowledge of the state, Karasu condemned the persecution of the corpses and called attention to the fact that the graves were destroyed and corpses kidnapped in the aftermath the "peace process". Karasu continued, "Those who buried the corpses in plastic containers under the pavement in Kilyos are guilty. Even in wars, a pause is taken to take corpses and to perform religious rituals. Our creeds have also been ignored just like the law is disregarded."
'IDENTITIES MUST BE DETERMINED AND GIVEN TO FAMILIES'
Karasu stated that the AKP-MHP government exploits the religious feelings of the society and disregards the law. Pointing out that the approach to the corpses is far from human values, Karasu said, "We condemn these attitudes that ignore the law. The government is responsible for this trauma. The identities of the 282 dead bodies removed need to be determined and delivered to the families. They should apologize the families in public and end all kinds of illegal practices."
CALL FOR AWARENESS
Underlining that even the dead Kurds make the government uncomfortable, Karasu said it is inhumane to bury a body four times. Karasu showed the first and final state of Garzan and the destruction process with photographs and said, "They buried the Kurdish corpses in concrete, history reported this, too. I call for sensitivity by saying that it is right to file a criminal complaint for our bodies to be taken out of Kilyos and taken to their homeland."