Activist kidnapped by the "Invisibles" speaks of torture he suffered
Gökhan Güneş, who was kidnapped in Istanbul and has been released after 6 days, told that he was held in a place similar to a padded cell and tortured for days by people who introduced themselves as "Invisibles".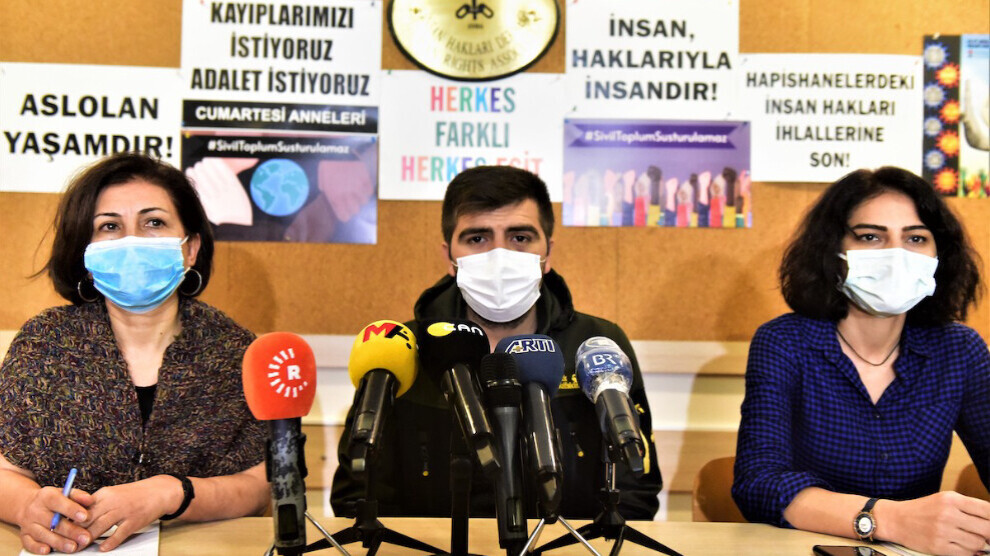 Gökhan Güneş, who was released blindfolded in Istanbul's Başakşehir district 6 days after he had been kidnapped, spoke about his experiences at a press conference held at the Istanbul Branch of the Human Rights Association (IHD).
The press conference was attended by Güneş's family, lawyers, İHD Istanbul Branch chair Gülseren Yoleri and ESP Co-Chair Şahin Tümüklü and was followed by many press members.
IHD Istanbul Branch chair Gülseren Yoleri stated that they are happy to be able to meet Gökhan again.
Stating that there have been many incidents that justify their concerns, Yoleri underlined the need to show the same sensitivity for everyone who was abducted or disappeared under police custody and said, "No news can be received from Hüseyin Galip Küçüközyiğit, who was abducted in Ankara on December 29. His daughter conveyed that she is happy to see Gökhan meet his family, saying that she also wished to meet her father."
Gökhan Güneş has bruises under his left eye and on his hands. Recounting the events of the last few days, he said that he was on his way to work on January 20, telling the following: "At about twelve o'clock I got off the bus. There were four people on the sidewalk at the bus stop. One of them approached me. When I turned around, all four of them rushed at me together. At that moment I saw that there had become more of them. They tried to force me into a vehicle. I resisted and backed away. To break my resistance, they used a stun gun. I did not regain consciousness until I was in the car. Two people were holding my arms. They bent me down and pulled a bag over my head. Then they put me in another vehicle. They took me to a place. I could not see anything and I was not told where and in which place I was.
After we went inside, torture methods were applied systematically and at intervals. The torture ranged from electric shocks to beatings to hosing down with cold water. Sometimes I was left naked, sometimes I still had my underwear on. I was threatened with rape. There was an area called the 'grave'. There you could only stand and not move your arms. You were locked in there blindfolded with your hands tied behind your back. Threats were made and offers were made. This went on arbitrarily.
At last I had assumed that I would be released the day before. I felt that something like this was being prepared. But then they didn't let me go after all. They said that I should cooperate with them. Later, they asked several times if I knew who they were. I answered that they were probably from the secret service. They did not say anything about that. However, they said several times that they were 'the invisible."
Regarding his release, Güneş told the following; "It was probably in the morning when I was put into a vehicle. My eyes were blindfolded. There were an estimated four people there. Before that, they gave me clothes. Except for the pants, none of it was mine. Underwear, stockings and shirt I got from them. Before they started, they cleaned my body. After I got dressed, they sprayed perfume on my jacket. Before they let me go, one of them, whom they called the chief, said: 'I didn't take anything from you, only your SIM card.' I asked why. He didn't answer that and just told me to get a new card from the same or another provider."
In the car, his head was again pushed down by two people. Before he got out, the bag was pulled off his head. "They told me to start walking and in no case to look behind. I started walking and opened my eyes. They had put absorbent cotton on my eyes and taped them shut. I didn't have a phone and couldn't call anyone. It was early in the morning. Finally, I asked a security guard to call me a cab. I got in the cab and went to my family's apartment."
In response to questions from journalists, Güneş said that the journey after his abduction took about an hour and a half. The room in which he was held for days resembled a padded cell and racist music was played over loudspeakers.
Gökhan Güneş concluded by thanking everyone who stood up for him. He emphasized that he was kidnapped because of his political identity as a socialist: "This is a policy of the 1990s that is being applied again today. Probably it will continue in the coming period. With this method, he said, the struggle cannot be marginalized; adding that he himself will continue to fight.