7 soldiers killed in revolutionary offensives of guerrillas
Seven soldiers of the Turkish army have been killed in the actions of the guerrillas.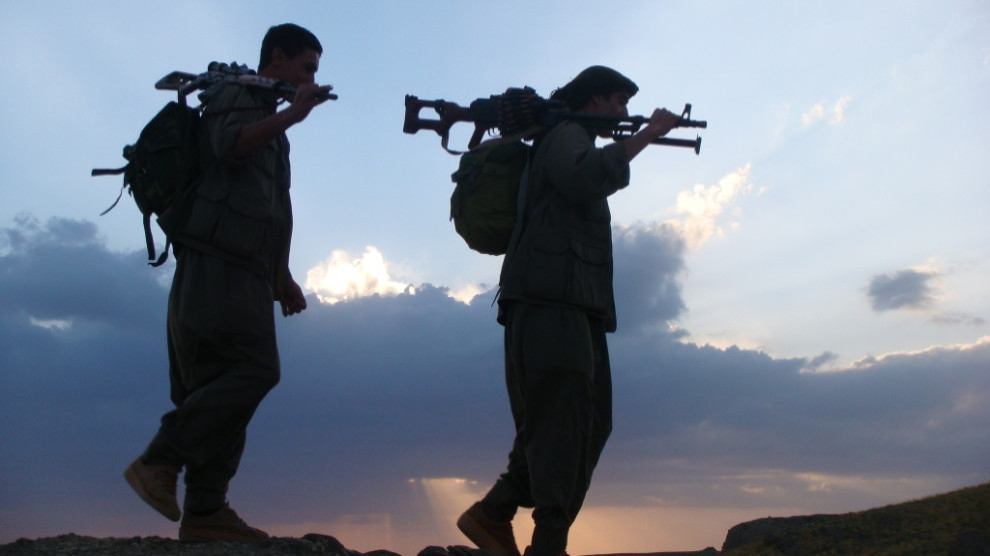 The Press Office of People's Defense Forces (HPG) has published details of recent guerrilla actions.
Heftanin
In the southern Kurdistan region of Heftanin in the Medya Defense Zones, HPG/YJA-Star guerrillas are conducting an offensive named 'Battle of Heftanin Revolutionary Campaign' against the occupation operation of the Turkish army.
In this context, guerrillas targeted the Turkish forces involved in road construction in the Hill Heliz area on 17 September. A bulldozer was destroyed and a soldier of the Turkish army was killed in the action, after which the Turkish army bombed the Geliyê Pisaxa area while the involved guerrilla unit returned to their base safely.
On September 18, one of the soldiers stationed on Hill Martyr Mervan was assassinated.
Xakurke
As part of the Revolutionary Campaign in memory of Martyr Bager and Martyr Ronya, guerrillas hit Turkish forces in Xakurke region of Medya Defense Zones.
On September 18, guerrillas hit the Turkish military unit stationed on Hill Shekif in Xakurke region. The positions and shelters of Turkish forces were struck effectively from two sides, as a result of which three soldiers were killed and two soldiers were injured.
While the Turkish army bombarded the area at random with heavy weapons, the dead and injured were evacuated by military helicopters.
On September 19, a soldier was assassinated on Hill Martyr Botan.
Çukurca
Free Women's Troops YJA-Star guerrillas carried out an action against Turkish construction machinery digging military positions on Hill Bane in Çukurca district of Hakkari on September 17. While a bulldozer was damaged in the action, the number of dead and injured couldn't be clarified. The involved guerrilla unit returned to their base safely.
Şırnak
On 17 September, the Turkish army launched a military operation in Kato Marinos region in Şırnak's Beytüşşebap district. While the area was bombed and soldiers were airdropped, the operation was discontinued one day later. Two guerrillas fell as martyrs during the operation.
Bitlis
The Turkish military launched an operation in Şêx Hadi area of Bitlis on 16 September. The operation zone was targeted by air raids till the night and soldiers were airdropped in the area. While the operation was retreated after one day, one guerrilla fighter was martyred during the clashes and bombardments.
Medya Defense Zones
Turkish fighter jets bombed the Small Cilo area in Zap region on September 17, and the Hill Sor area in Avashin region on September 18. There were no losses of the guerrilla as a result of these bombardments.
Hakkari
On September 8, guerrillas carried out a sabotage action against an operation unit of the Turkish army in the Shelale area in Hakkari province. One soldier was killed and another wounded in the action.