YRK announces the identities of Asos martyrs
The YRK has published the names of its seven fighters who died in the Turkish drone attack near Mawat in Southern Kurdistan on Friday a week ago.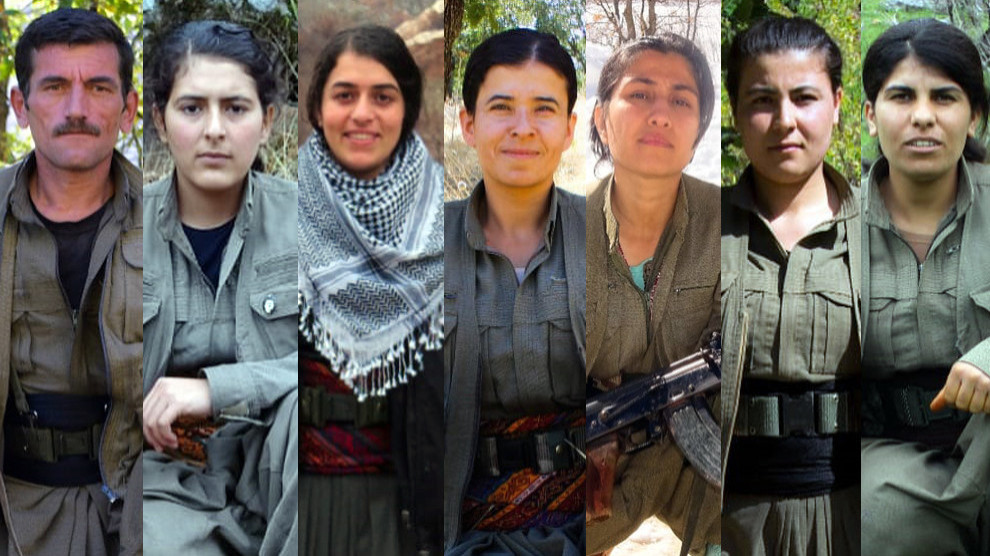 The Defense Units of Eastern Kurdistan (YRK) announced the names of their seven fighters who died on August 7 in the Turkish drone attack near the Southern Kurdish town of Mawat. The YRK unit moved at Balose, a secondary summit of the Asos mountains in the border area between Southern and Eastern Kurdistan (Iraq-Iran). Two patriots, who were guests of the fighters, also died during the air raid. Their identity remains unclear for the time being.
The YRK statement on the death of seven guerrilla fighters includes the following:
"Throughout history, the enemies of the Kurdish people have always pursued a genocidal occupation policy and attacked the Kurds in order to achieve their goals. The attack on Balose is only one of many proofs of this truth. The free Kurds are denied the right to exist because they are seen as a threat to their own sovereignty.
But the enemies of the Kurdish people should know that the ideas of Rêber Apo [Abdullah Ocalan] have produced a national spirit. Neither the attacks nor the betrayal of the collaborators can weaken this spirit and the unity of the Kurdish people. Because this spirit is growing with every moment and is everywhere. These martyrs, each one of them from another part of Kurdistan, symbolize the unity and the struggle of the Kurdish people. The loss of six female fighters also shows that women are the forerunners of the Kurdish liberation movement and that the Apoist line is the position of the free woman. This line will lead the Kurdish people to freedom.
As YRK, we express our sympathy to the relatives of our martyrs and the patriotic people of Kurdistan. Our solidarity is with the way of the martyrs. We call on the Kurdish people, especially our people in Rojhilat, to stand by the families of the martyrs. Our call to the youth is: it's time for revenge - come to the guerrilla."
YRK announced the ID details of the fallen fighters as follows:
Nom de Guerre: Özgür Kürdistan
First-Last Name: Songül Dilman
Place of Birth: Garzan / Northern Kurdistan
Date and Place of Martyrdom: 7 August 2020 / Balûse – Asos
*****
Nom de Guerre: Bêrîvan Taqedar
First-Last Name: Arzu Muhemedî
Place of Birth: Sine (Sanandaj) / Eastern Kurdistan
Date and Place of Martyrdom: 7 August 2020 / Balûse – Asos
*****
Nom de Guerre: Rojbîn Gulnaz
First-Last Name: Dozgun Omer
Place of Birth: Kobanê / Western Kurdistan
Date and Place of Martyrdom: 7 August 2020 / Balûse – Asos
*****
Nom de Guerre: Şîlan Şahoz
First-Last Name: Esrîn Xelîl
Place of Birth: Serêkaniyê / Western Kurdistan
Date and Place of Martyrdom: 7 August 2020 / Balûse – Asos
*****
Nom de Guerre: Vejîn Doxan Kurdistan
First-Last Name: Dîlan Mehmûd
Place of Birth: Qamişlo / Western Kurdistan
Date and Place of Martyrdom: 7 August 2020 / Balûse – Asos
*****
Nom de Guerre: Rêzan Kürdistan
First-Last Name: Ferhat Xidirlekî
Place of Birth: Sine / Eastern Kurdistan
Date and Place of Martyrdom: 7 August 2020 / Balûse – Asos
*****
Nom de Guerre: Eylem Cûdî
First-Last Name: Medîne Şêxo
Place of Birth: Kobanê / Western Kurdistan
Date and Place of Martyrdom: 7 August 2020 / Balûse – Asos
RELATED NEWS: