'What is illegal is not the hunger strike but the isolation'
IHD Van Branch Chairman Mehmet Karataş stated that the isolation is illegal and that the ongoing hunger strike has a valid and legitimate right.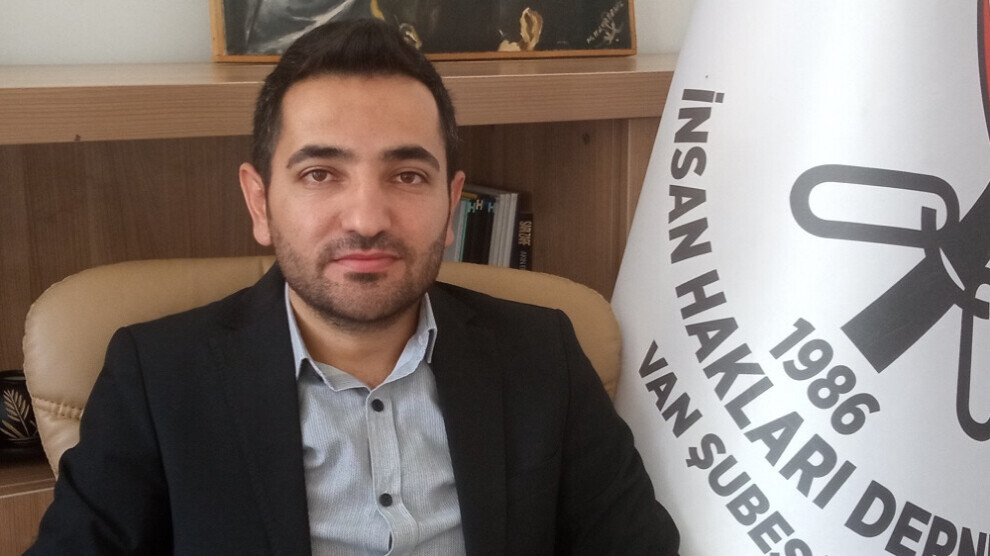 Atty. Mehmet Karataş stated that Kurdish People's Leader Abdullah Öcalan is wrongfully confined in isolation because of his influence in the Middle East and Kurdistan, reminding that every prisoner has a legal right under international and domestic law to meet with his lawyer and family.
Atty. Mehmet Karataş, President of HD Van Branch, spoke to ANF about the hunger strikes, Afghan migration at the border, and the 5-year restriction on any kind of action/activity in the city.
AN ILLEGAL PRACTICE
Karataş drew attention to the ongoing hunger strikes in jails, remarking that the fundamental reason for this was the illegality in İmralı. Noting that this isolation is illegal under international law, Karataş stated, "We are confronted with a situation that even violates Turkey's legal standards. This is lawlessness. Every inmate has the legal right to meet with his counsel and family, both under international and domestic law. Because of Abdullah Öcalan's influence in the Middle East and Kurdistan, the Turkish state is illegally isolating him."
HUNGER STRIKE IS LEGAL
Karataş continued, emphasizing that the call for an end to isolation is a legal and natural right: "Since the 2000s, isolation has increased, and people's ties to the land have been broken. Using the epidemic process that began in 2020 as an excuse, the conditions for political prisoners in all jails were exacerbated. Family interactions, phone calls, mail, and access to literature and other gadgets have all been severely restricted. The hunger strike action that began with a demand to stop them is a human right. A disciplinary investigation is launched, and fines are imposed as a result. The Constitutional Court (AYM) has issued a violation decision in this case. These disciplinary sanctions are unconstitutional. Fulfilling the demands for the hunger strikes to end as soon as possible is critical for human rights."
MIGRATION FROM THE VAN BORDER
Karataş, who also mentioned the re-emergence of Van with the issue of Afghan migrants, noted that Turkey has a legal vacuum when it comes to refugees. "Turkey says it will prevent migration by blocking the border with concrete blocks, digging trenches and erecting wire fences, and making a military buildup on the border," Karataş said, adding that migrants are not even welcomed as asylum seekers in Turkey. "This contradicts the fundamental right to life as well as all states' responsibilities to preserve cultural and social rights. The right to life of refugees entering the country at the Van border is being infringed, as we can witness. As human rights activists, we demand that rules protecting refugees be adopted as soon as possible," he stated.
A SPECIAL STATE OF EMERGENCY IS ENFORCED IN VAN
Finally, Karataş emphasized the five-year restriction on any kind of action/activity in Van and said that this is a particular state of emergency. Karataş emphasized that the constitutionally protected right to peaceful assembly was being violated, saying, "Anyone can use this right without permission. The only way to prevent this is by the use of the law. Since 2016, this fundamental right has been suspended at 15-day intervals. Finally, the constitutional right to peaceful assembly is being usurped. This matter must be resolved as quickly as possible. Despite the permit, there was a mass attack on July 30th, and 9 people were arrested. International law has been violated. This is a constitutional right that cannot be denied. These restrictions should be abolished, and citizens should exercise this right."