Thousands gather in Strasbourg for Öcalan
Thousands of Kurds and their allies continue to flock to Strasbourg to attend a massive rally organized with the motto "Öcalan's freedom is our freedom".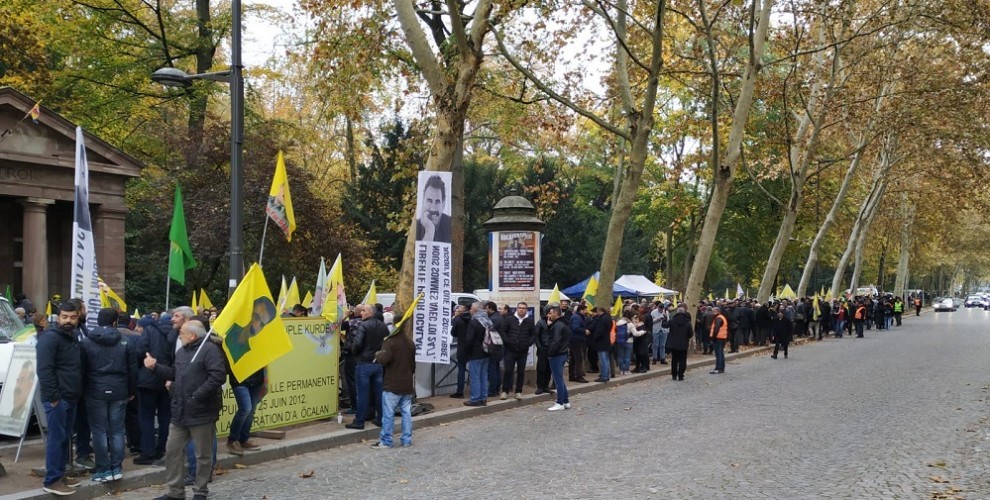 Kurdish People's Leader Abdullah Öcalan has been held hostage on the island of İmralı for over 20 years and he is in aggravated isolation for the past two years, which has been raising concerns over his health and safety conditions.
A central demonstration is taking place in Strasbourg city of France today under the motto "Öcalan's freedom is our freedom".
Answering a call by KCDK-E (European Democratic Kurdish Society Congress) and TJK-E (European Kurdish Women's Movement), hundreds of people from Germany, France, Belgium, the Netherlands and Switzerland have already started to gather in Strasbourg starting from early morning and more people are flocking to the scene.
Today's rally to be held in front of the Council of Europe will be the start of a series of actions demanding freedom for the Kurdish leader.
Demonstrators are chanting "Freedom for Öcalan" in various languages and condemning the Turkish state's fascist attacks against the Kurdish people.
During today's demo, Kurds will also be inviting the Committee for the Prevention of Torture, the only institution with the authority to visit Öcalan in İmralı Island Prison where he is held, to uphold its responsibilities. Protesters will also criticize the European Court of Human Rights, which rejected in late September an appeal made back in 2010 that had denounced an attack and death threat against the Kurdish leader during a cell search in 2008. The ECHR is accused of ignoring the torture practices imposed on Öcalan.