Tamil activists support Vigil demanding freedom for Öcalan
The Tamil activists are cycling from London to Geneva demanding justice for their own people.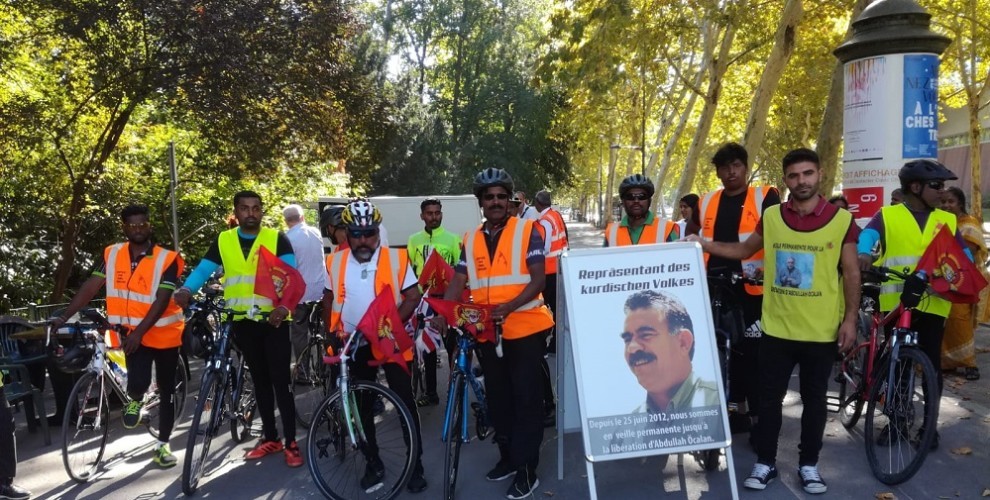 In 2009, cyclists from Tamil, who had been massacred in support of a number of countries, planned the cycling of individuals from London to Geneva, while activists demanded freedom for the Kurdish People's leader Abdullah Öcalan in Strasbourg.
Tens of thousands of civilians were killed in 2009, when Liberation Tigers of Tamil Elam (LTTE) were taken over by the Sri Lankan army, which was supported by India and other countries of the region. 
For the past 9 years, a bicycle action from London to Geneva has been organized to protest the international community silence on the massacre and the survivors.
The bicycle action will end at the representation of the United Nations in Geneva, Switzerland.
Passing through the Netherlands, the capital of Belgium, Brussels, Luxembourg and Germany, 5 Tamil activists also cycled through Strasbourg on Tuesday, in front to the International Criminal Court.
The Tamil ​​also visited the Vigil demanding freedom for Kurdish People's Leader Abdullah Öcalan. 
The Kurdish activists at the Vigil declared their support for the Tamil and in turn the Tamil activists said that they support the Kurdish quest for the freedom of Öcalan and said the international community should not remain silent.