Solidarity action with Saturday Mothers takes place in Cologne
Activists in Cologne showed their solidarity with the Saturday Mothers in Istanbul. The trial against 46 participants in the 700th Saturday Mothers' protest begins today in Istanbul.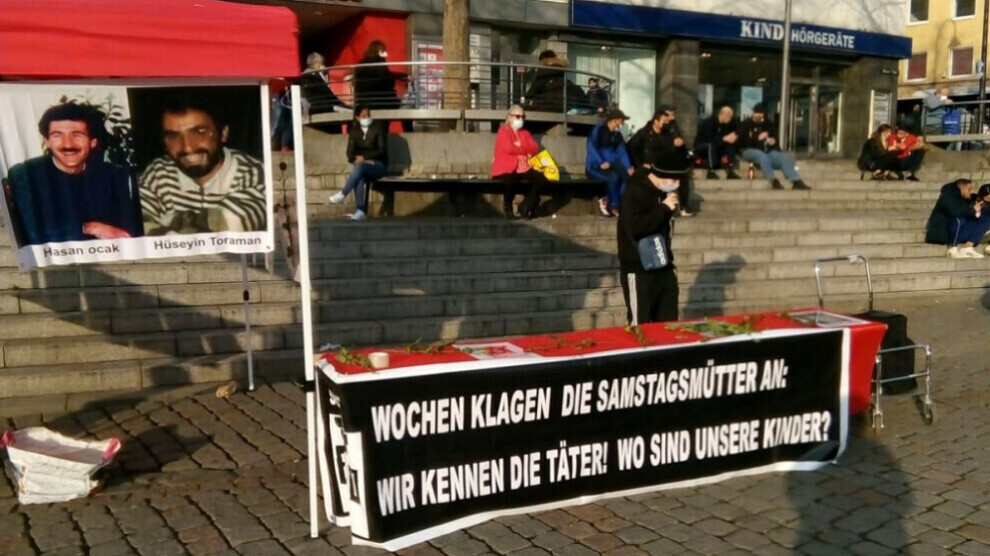 The Saturday Mothers' sit-in in Turkey is attracting a great deal of attention and solidarity. The Saturday Mothers demand justice and the truth for their relatives who "disappeared" after being arrested. The mothers have been gathering every Saturday at Galatasaray Square in Istanbul for years.
The trial against the mothers begins today in Istanbul. The mothers are on trial for the 700th sit-in they held on 5 August 2018. In fact, the action was brutally attacked by police which fired plastic bullets and tear gas. Dozens of people were arrested. 46 of those arrested at the time are accused of violating the Turkish assembly and demonstration law. According to the opening order of the 21st Criminal Division of the Istanbul Regional Court, they are accused of violating Law No. 2911. If convicted, they could be sentenced to up to three years in jail.
Solidarity actions took are taking place in many European cities, including Cologne where activists delivered information to passers by and opened an information stand about the Saturday Mothers and the repression against them.
At the stand pictures of the disappeared were shown and attention was drawn to the disappearance of Gülistan Doku in Dersim exactly one year ago.
The activists said that those responsible for the forced disappearances should be brought to justice and not the relatives of the disappeared people.