Sit-in for ill prisoners blocked by Istanbul police
"In order to avoid new deaths in prisons, new ill prisoners, isolation has to be removed, the demands of prisoners should be met and steps should be taken to resolve problems."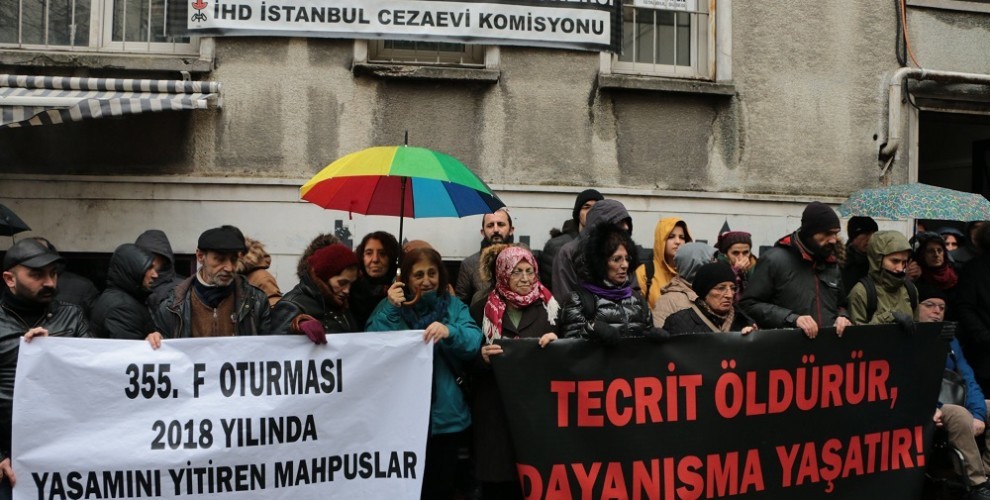 The 355th so called 'F sit-in' organised in Galatasaray Square has been prevented by the police.
The action is organised by the Human Rights Association (IHD) to draw attention to the situation of ill prisoners.
Human rights defenders read a press statement in front of the IHD Istanbul Branch building and dedicated the action to the prisoners who died in 2018.
The first words of the statement were dedicated to DTK co-chair and HDP Hakkari MP Leyla Güven, on hunger strike for 66 days demanding the end of the Imralı isolation system.
IHD Prison Commission Member Hatice Onaran reiterated the need for the prisoners on hunger strike of water, salt, sugar and vitamin B1 immediately.
"Isolation is torture"
Onaran stated that isolation is torture and added: "In order to avoid new deaths in prisons, new ill prisoners, isolation has to be removed, the demands of prisoners should be met and steps should be taken to resolve problems."
Onaran added: "When we look at the causes of death of prisoners, we often seen that these are caused by serious health problems not properly dealt with. Older prisoners, often suffering from heart or chronic diseases, are having a hard time surviving the harsh prison conditions."