Saturday Mothers met once again despite the repression
The Saturday Mothers met in front of the Human Rights Association (İHD) Istanbul Branch building to stage week 711 of their action.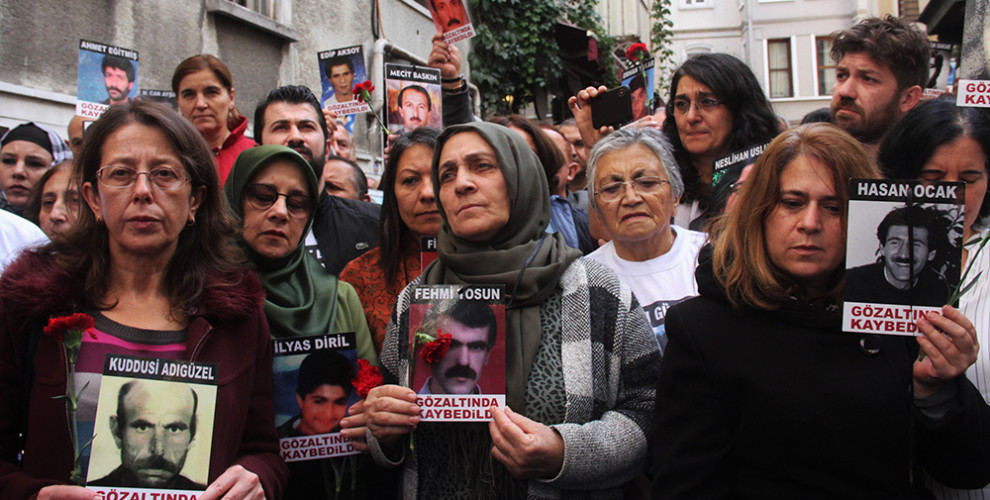 The Saturday Mothers traditionally met in Galatasaray Square like every week to demand justice and the truth about the fate of the disappeared people of Turkey.
Police attacked the Mothers on week 700 and since then they have been obstructing the action which had to be carried out in front of the IHD building.
Once again today the Saturday Mothers carried photos of the people who disappeared while in state forces' custody.
HDP (Peoples' Democratic Party) Istanbul deputy Huda Kaya, HDP Diyarbakır deputy Garo Paylan, Amnesty International Turkey Campaigner Milena Buyum, Amnesty International European Campaign Director Fotis Filippou, CHP deputies Sezgin Tanrikulu and artist Nur Sürer joined this week's action.
The story of Ramazan Yazıcı, who disappeared 22 years ago, was read out by Besna Tosun, a member of İHD Commission for the Disappeared People.
In Turkey the crime of forced disappearance, as other serious violations, enjoys impunity, said Tosun who added: "For hundreds of people who have been disappeared while in state forces' custody, their families and friends are continuing to demand justice and the truth".
This week the story of Ramazan Yazıcı was told. "Ramazan - said Tosun - was 36 when he was taken into custody by three armed people at Diyarbakır Silvan Melikahmet Garage at 9 am on 22 November 1996".
Ramazan Yazıcı's family was told he had not been taken into custody, despite he didn't return home. Two years later, on 19 November 1998, the family was finally told that Ramazan Yazıcı's body had been found on 3 December 1996 at a spot between the villages Sarıköy and Mağara in Idil and buried as "nameless".To this day, the family has not been given Ramazan's remains.
Amnesty International Europe Campaign Director Fotis Filippou said: "The repression and frustration you experienced on the 700th week of your action has saddened us all and made us very angry. Since then, - he added - we have been following the action more closely. We will continue to campaign for the Saturday Mothers to be able to return to Galatasaray Square. Amnesty International Turkey branch and the whole organisation will always stand beside you".