Rights and legal organizations denounce abduction of civilians by state forces
Rights and law organizations filed a criminal complaint, drawing attention to the abduction and torture of Kurds and dissidents by state forces.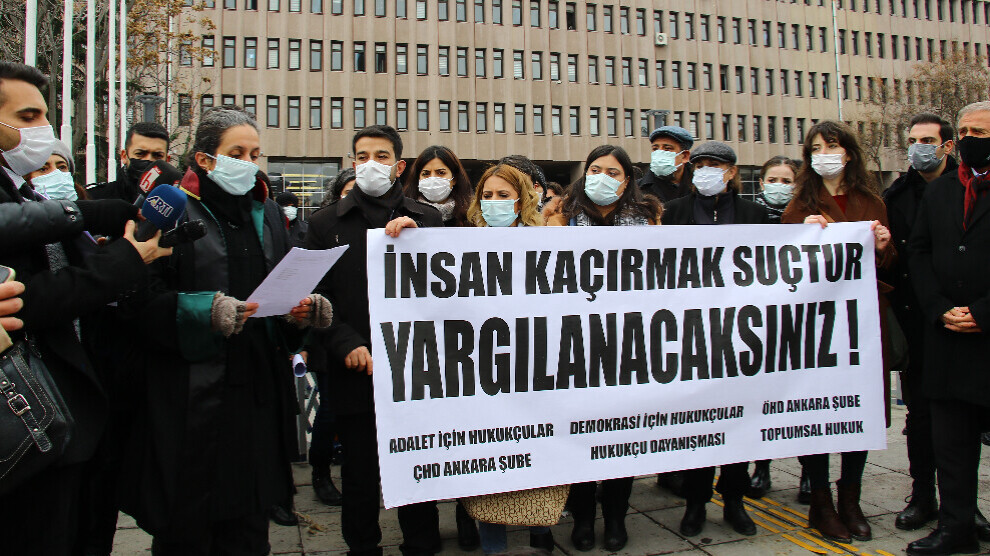 Legal organization representatives and human rights defenders made a press statement in front of Ankara Courthouse regarding the abduction of 3 university students under the pretext of criminal record check (GBT). Peoples' Democratic Party (HDP) Batman MP Mehmet Rüştü Tiryaki and Republican People's Party (CHP) Ankara MP Yıldırım Kaya also participated in the action.
Lawyer Sevinç Hocaoğulları read out a statement on behalf of the legal organizations and said, "The university students were put in vehicles by the police who showed their identity and said that GBT would be conducted. No information was received about them for hours. They were taken around the streets of this city, threatened, tortured, and then left in three blind spots of the city."
Referring to the data in a report of the Human Rights Association (IHD), Hocaoğulları said "160 people were kidnapped or tried to be abducted in 2018. In 2019, the number was 150. As far as we can detect, the figures have increased gradually as of 2020, and at least nine people have faced attempts of abduction in the last month."
Hocaoğulları reminded that two female university students who are members of HDP Youth Council, had been kidnapped in Bahçelievler district during the daytime only two weeks ago, and emphasized that yesterday's abduction was not the first, and it is becoming a systematic practice.
"There are more crimes than we can count here, such as torture, ill-treatment, violence, deprivation of liberty, establishing organizations to commit crimes, abuse of office. And these crimes are committed collectively with the support of the state," she added.
After the statement, petitions for a criminal complaint were submitted to the prosecutor's office.