Prosecutor summons Şenyaşar family to give statements over photographs of their murdered relatives
The Şenyaşar family was summoned to testify because they carried photographs of their murdered relatives.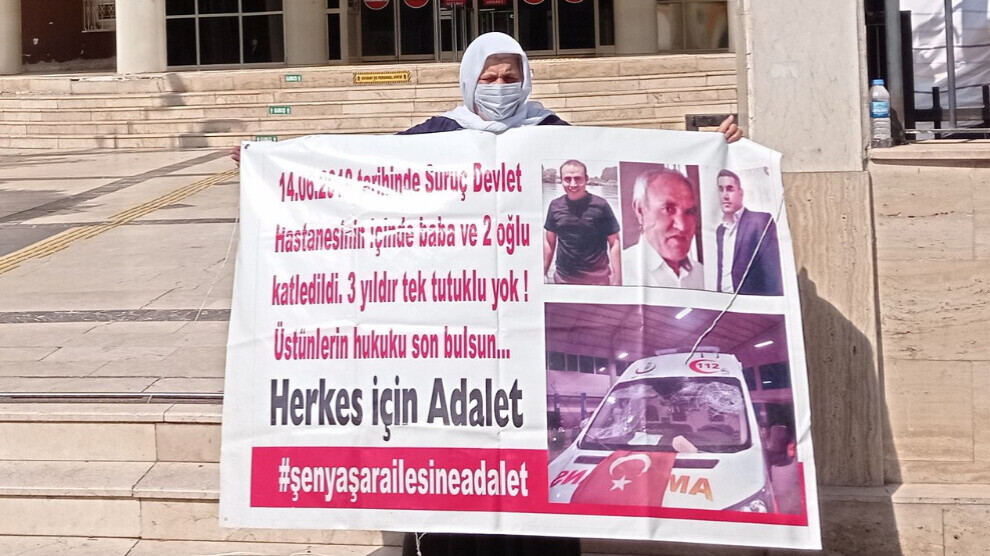 The Justice Vigil launched on 9 March 2021 by Emine Şenyaşar, who lost her husband and two sons in the attack carried out by AKP Urfa MP Ibrahim Halil Yıldız's bodyguards and relatives, has entered its 330th day.
Emine Şenyaşar is carrying out the vigil with her son, Ferit, who was injured in the attack, in front of the courthouse in Urfa.
Mother and son were once again summoned to testify by the Suruç Police Department. After the vigil on Monday, they went to give their statement to the prosecutor, accompanied by their lawyers.
 
Emine and Ferit Şenyaşar were asked about the posters with the photos of their murdered relatives, Adil, Celal and Esvet Şenyaşar, that they carry in front of the courthouse on 2 November 2021, the 239th day of the Justice Vigil. The prosecutor said that the Şenyaşar family, with their actions, violated Article 22 of the Law No. 2911 (Law on Demonstrations and Marches). In their statements Emine Şenyaşar and her son Ferit demanded that justice be served and rejected the accusations. After the statements, they were released.
Since the Justice Vigil began, 330 days ago, Emine Şenyaşar testified 13 times and her son Ferit Şenyaşar 4 times. Today, the family once again came to the courthouse in Urfa from their house in Suruç and started the vigil.